Tezos' price has been caught within a downtrend throughout the past couple of weeks, slowly grinding lower alongside Bitcoin and Ethereum while most other mid-cap altcoins incur parabolic momentum.
Analysts are now noting that where the cryptocurrency trends next may depend nearly entirely on Chainlink, as many investors have been treating XTZ as a "slower LINK" from a price perspective.
It remains unclear as to whether or not the two assets are truly correlated, but traders attempting to play this correlation may actually have manifested it. As such, one analyst is noting that where LINK trends next will provide guidance for Tezos.
Another factor to consider in the near-term is that Tezos just plunged to a key support level that one analyst has been watching for several days.
A continued bout of trading above this level could be all that the cryptocurrency needs to see some further upside in the coming few days and weeks.
Tezos Reaches Key Support Level as Multi-Week Downtrend Persists
At the time of writing, Tezos is trading up marginally at its current price of $3.25. This is around the price at which it has been trading at for the past few hours.
Yesterday, the cryptocurrency faced a massive influx of selling pressure that led it to slide from highs of $3.50 to lows of $3.10.
This movement came about in tandem with the decline seen by Bitcoin, which plunged from $11,600 to lows of $11,150.
In the time since, XTZ has been able to recover a good majority of these losses.
One analyst is noting that the price region between $3.10 and $3.20 is strong support that may ultimately help guide Tezos higher in the near-term.
"XTZ: Very simple, arrived at the area that I initially targeted for longs," he said while referencing the below chart.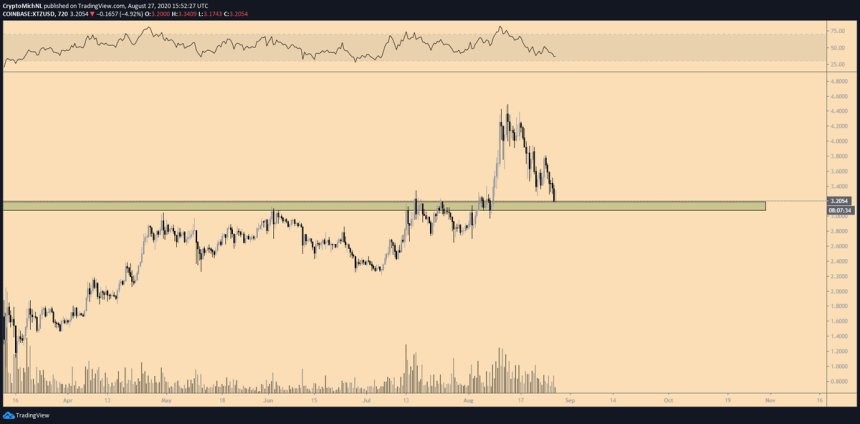 Image Courtesy of Crypto Michaël. Chart via TradingView.
Analyst: Chainlink May Provide Guidance to XTZ's Near-Term Trend 
Because of the somewhat loose correlation formed between Tezos and Chainlink in recent months, one analyst believes that where LINK trends next should influence XTZ.
"If LINK runs, XTZ should follow like it usually does. Not a bad spot, right at support. Took a small long here as well," he explained.
Currently, Chainlink is also caught in a short-term downtrend, with its price now oscillating between lows of $13.50 and highs of $16.00.
Which one of these levels is firmly broken first should provide insights into Tezos' near-term trend.
Featured image from Unsplash.
Charts from TradingView.