Bitcoin alternatives DASH and Monero is expected to test last week's high now that both technical and fundamental set ups favor them. While there was an update for DASH, Monero is considered secure and scalable and both should benefit from BTC legacy capital outflows. On the other hand NEO and NEM are at the early stages of a bull run and should appreciate in due course.
Let's look at the charts:
NEM RESTRICTED TO A $0.02 TRADE RANGE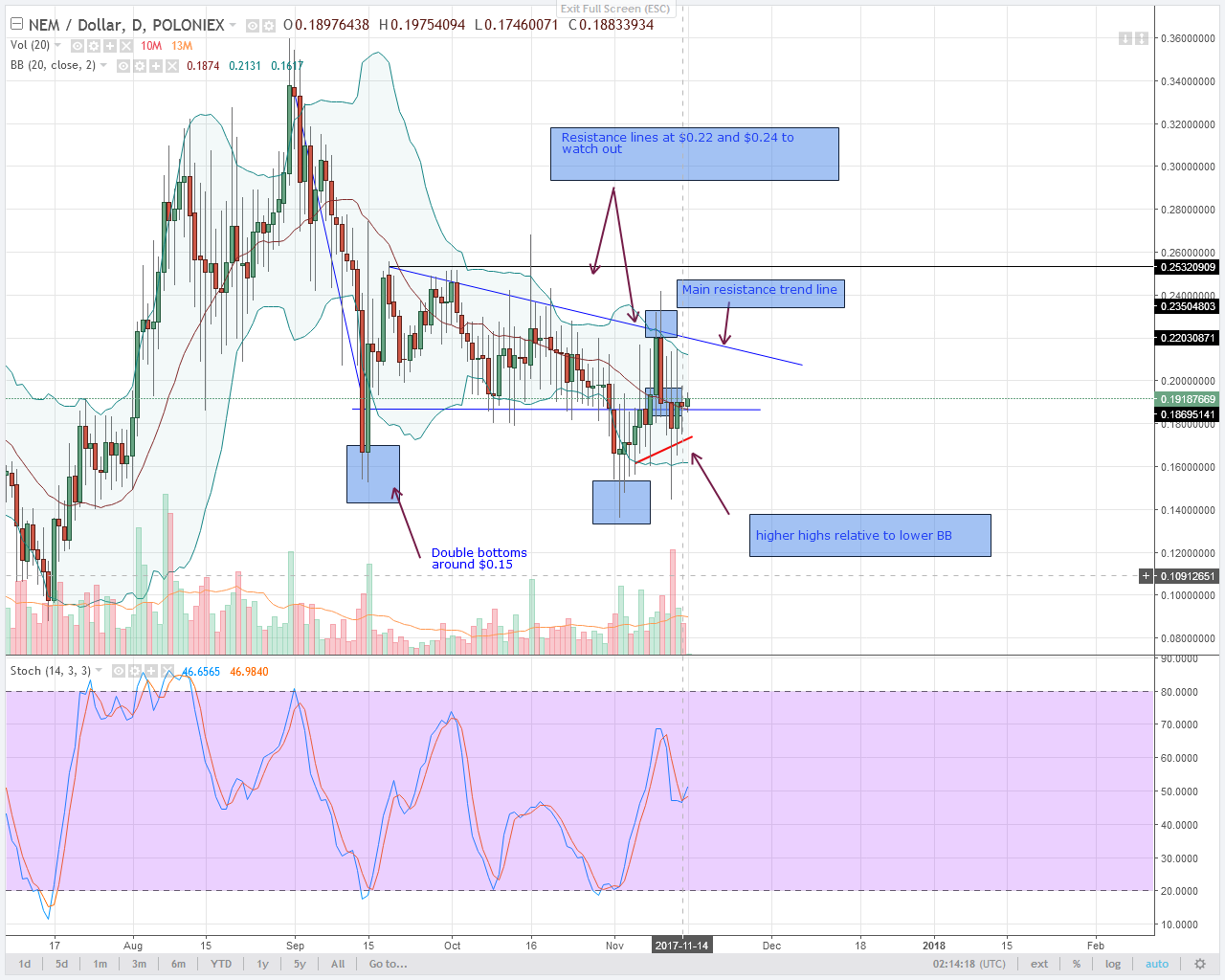 To say the least, yesterday's NEM price action was tepid and oscillating around the 20 period MA and the main resistance line at $0.20.
Alt coin NEM trading chart also shows that the trading range was $0.02 with NEM closing above the 20 period MA. Of course as we can see, there is consistent bull pressure after that over-extension on November 2.
If bulls manage to close strongly above the 20 period MA today, NEM will probably retest the main resistance trend line at $0.22. However, if it reverses bears would still be in charge.
BITCOIN ALTERNATIVE DASH RECOVERS AND TREND HIGHER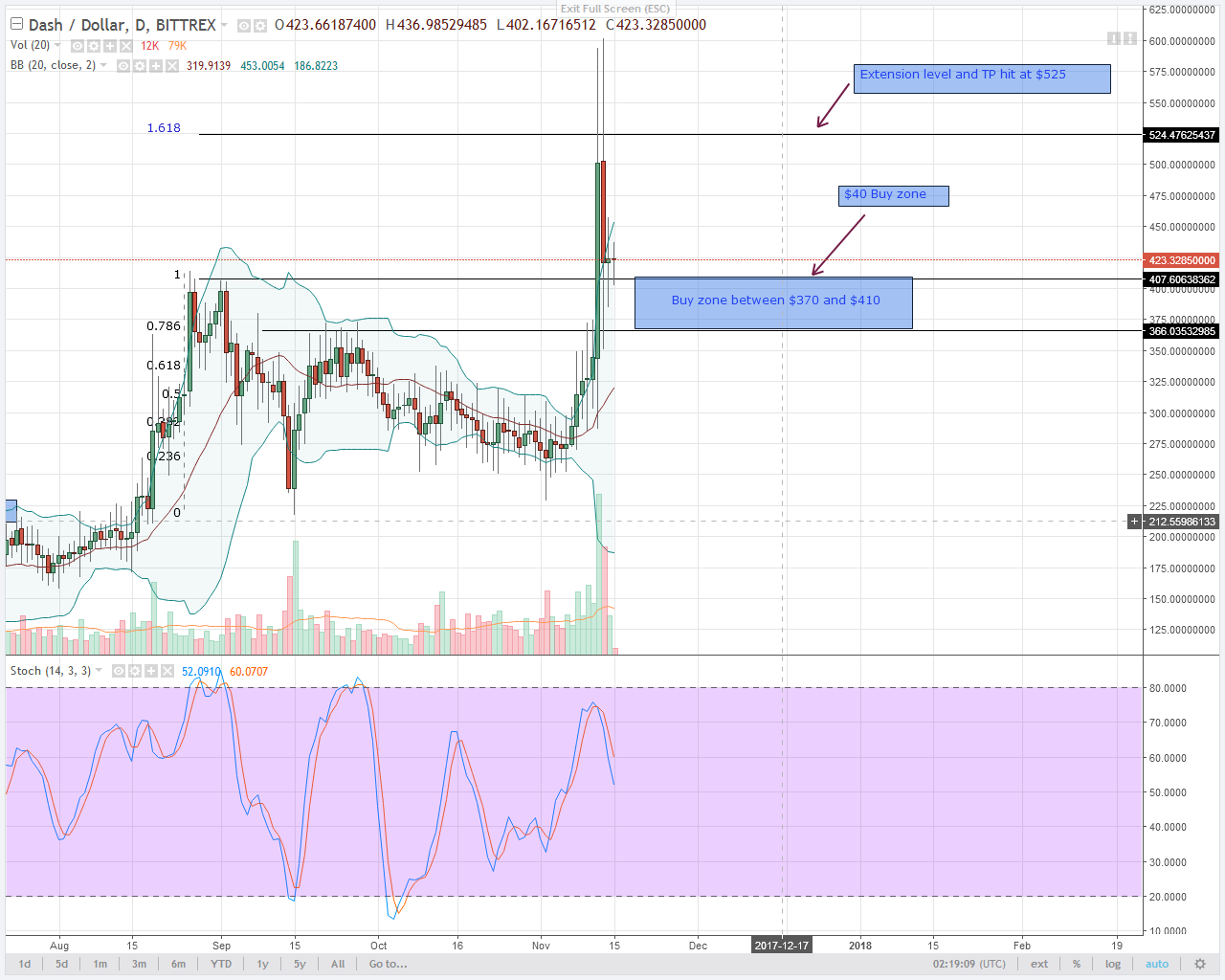 According to our trade plan, DASH correction lower paused at the buy zone and by close of day, long lower wicks had formed.
This pointed to bull pressure and as momentum continues to swing higher, DASH bulls should be long in lower time frames. DASH bull pressure and close above August highs means DASH are right in charge. More upward potential will be clear especially if today price action ends us banding along the upper BB.
BULL PRESSURE PUSHING IOTA PRICES HIGHER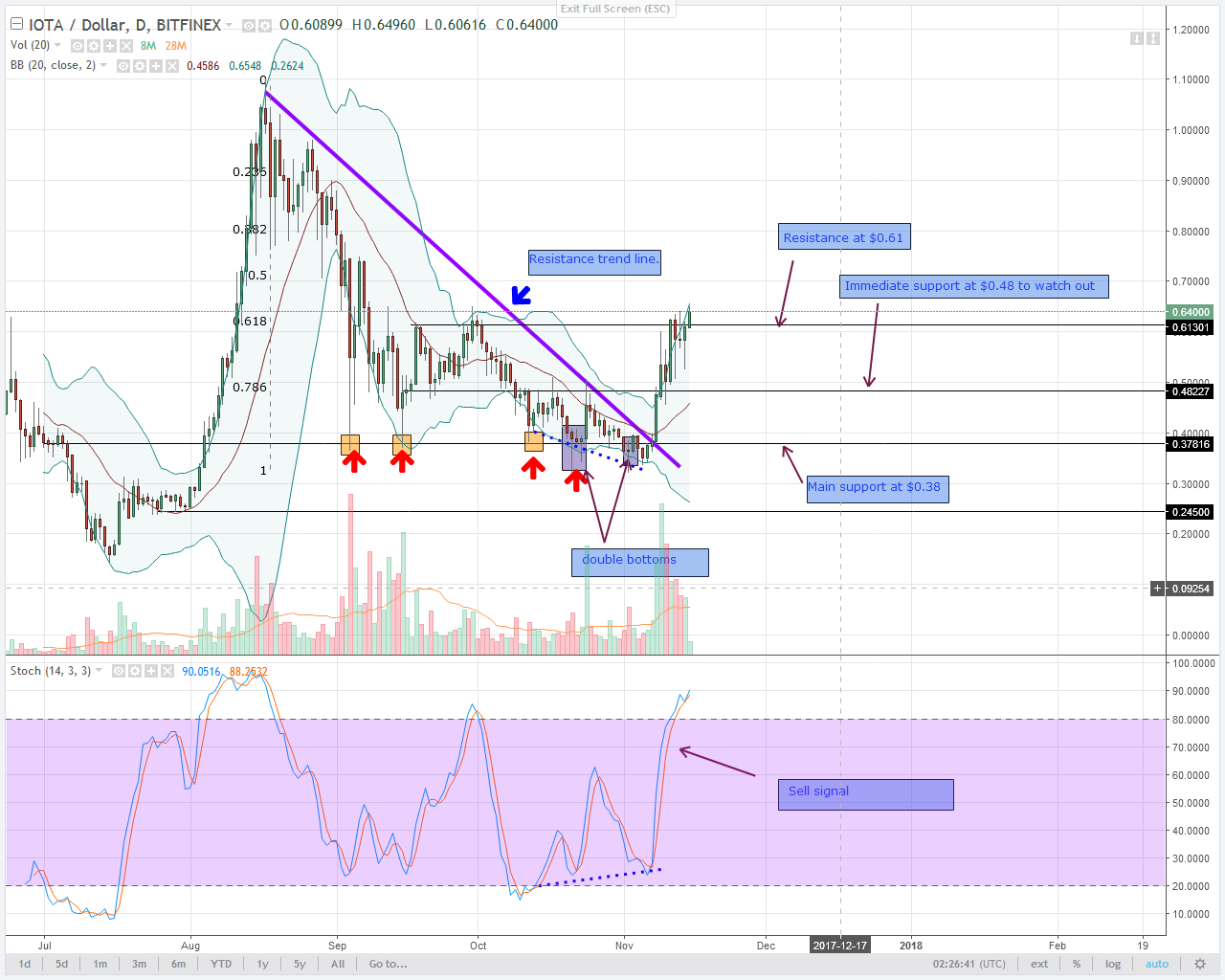 Despite the stochastic sell signal in the daily trading chart of IOTA, bulls are actually in charge. Furthermore, alt coin IOTA price action has a buy signal in place in the weekly chart.
That bullish pressure will definitely spill over to the daily chart where there was expectation of further correction below $0.61. We advice bulls to place a buy stop above September 12 and 30 highs of $0.65.
If bulls continue to push above resistance line at $0.61, then short term bear forecast will be null.
BITCOIN ALTERNATIVES MONERO TESTS 105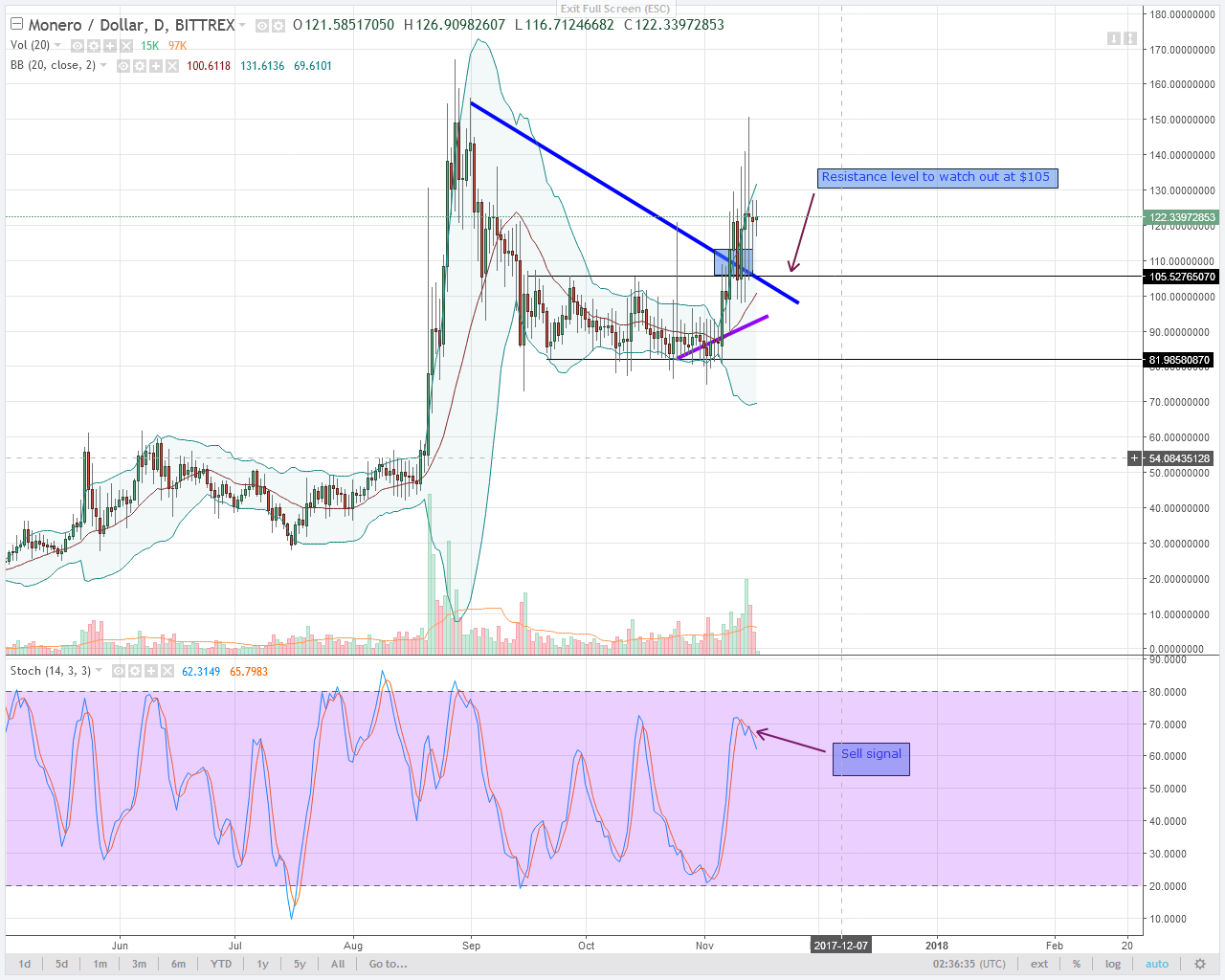 Overly alt coin Monero bulls should drive prices higher. This correction and test of previous resistance now support at $105 is normal after Monero rally last week.
Evidently, November 13 and 14 candlesticks had long lower wicks that tested the resistance zones at break out zones. Therefore, ideal entries is at $105 especially if USD bulls continue to drive prices lower.
Bulls should just wait for a buy signal at support zone.
If prices fails to close below $120, then we recommend buy stops above September 7 highs of $135.
BREAK ABOVE 20 PERIOD MA AND RESISTANCE TREND LINE MEANS NEO BULLS ARE IN CHARGE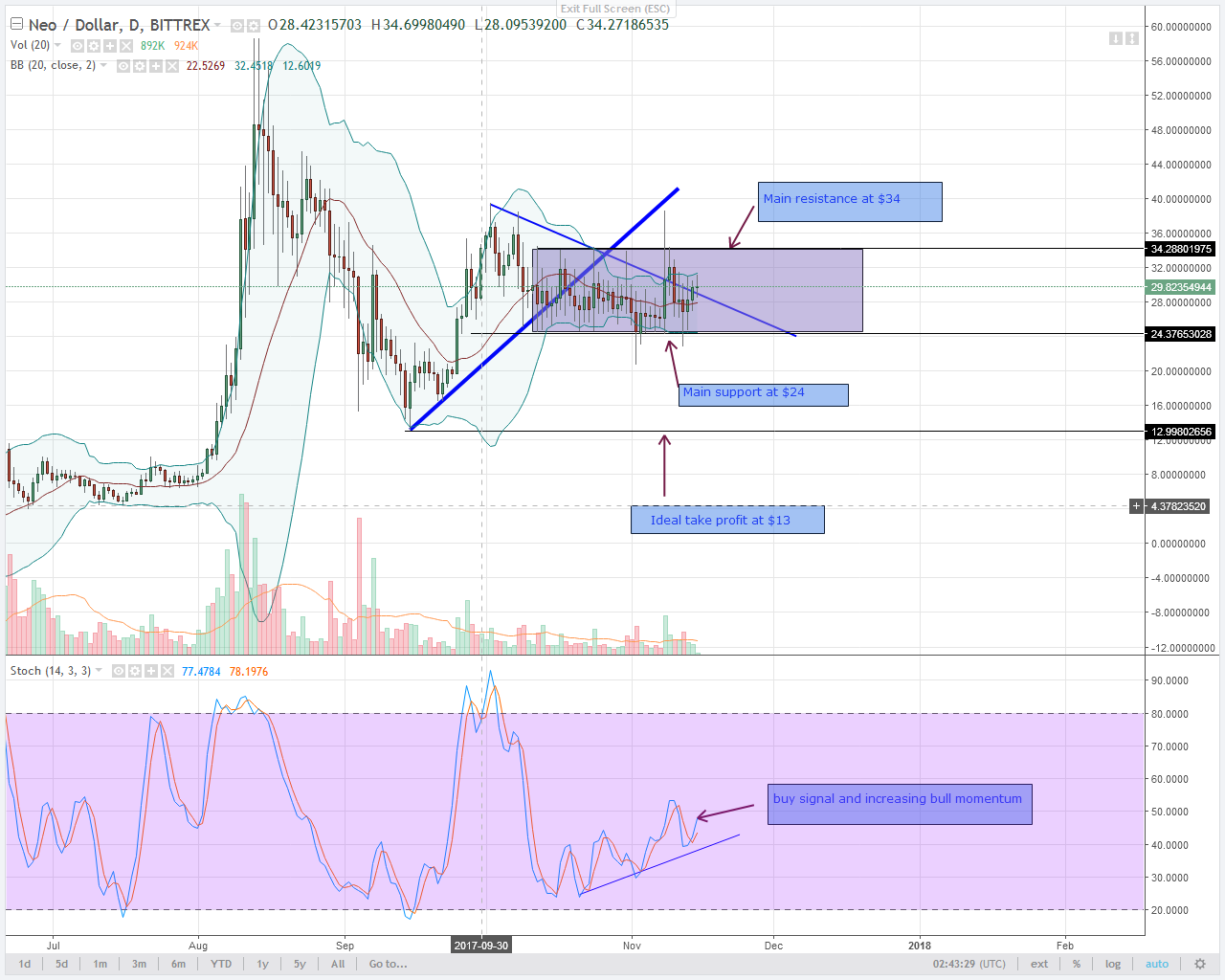 NEO bull pressure within the $10 is evident. Stochastics are swing up as prices appreciate due to NEO pump.
As per our recommendations, Intraday traders should be placing long positions only. From the charts, price action which is above the  main resistance trend line while bull momentum is increasing.
Furthermore, the 20 period MA is now support after that bull candlestick on November 13. Accordingly, trend traders should wait until NEO break out from this $10 range before initiating a trade.
All charts courtesy of Trading View