The total crypto market cap is slowly rising and it is now above the $185.0B support.
Bitcoin price rallied recently, but it failed to climb above the $7,500 resistance.
Binance coin (BNB) price is up more than 5% and it broke the $14.20 resistance area.
Litecoin (LTC) price is slowly recovering and it is now trading above $42.50.
BCH price surged above the $205 and $210 resistance levels.
Tron (TRX) price is climbing and it could soon test the $0.0140 resistance area.
Bitcoin (BTC) and the crypto market cap are showing bullish signs. Ethereum (ETH), litecoin, ripple, BCH, XLM, TRX, BNB, and EOS are likely to climb higher steadily.
Bitcoin Cash Price Analysis
After consolidating above the $185 support, bitcoin cash price started a decent upward move against the US Dollar. BCH price gained more than 5% and it broke the $200 and $205 resistance levels.
The price is now trading above $210 and it seems like the bulls are aiming a test of the $225 barrier. Any further gains might set the pace for more upsides towards the $250 level in the near term.
Binance Coin (BNB), Litecoin (LTC) and Tron (TRX) Price Analysis
Binance coin (BNB) is recovering and it recently managed to break the $14.00 resistance level. BNB price is up around 5% and it is now trading above the $14.20 level. The next major resistance is near $14.50, above which the price will most likely test the $15.00 resistance area.
Litecoin price formed a nice support base near the $40.00 level. LTC price started a steady rise and broke the $41.20 and $42.50 resistance levels. It is now trading above $43.00 and facing a major hurdle near the $44.20 and $45.00 levels. On the downside, the $41.20 level may now act as a support.
Tron price is holding the $0.0130 support area and it is currently recovering. TRX price is trading above $0.0135 and it could make an attempt to surpass the $0.0140 resistance. A close above $0.0140 might lead the price towards the $0.0150 level.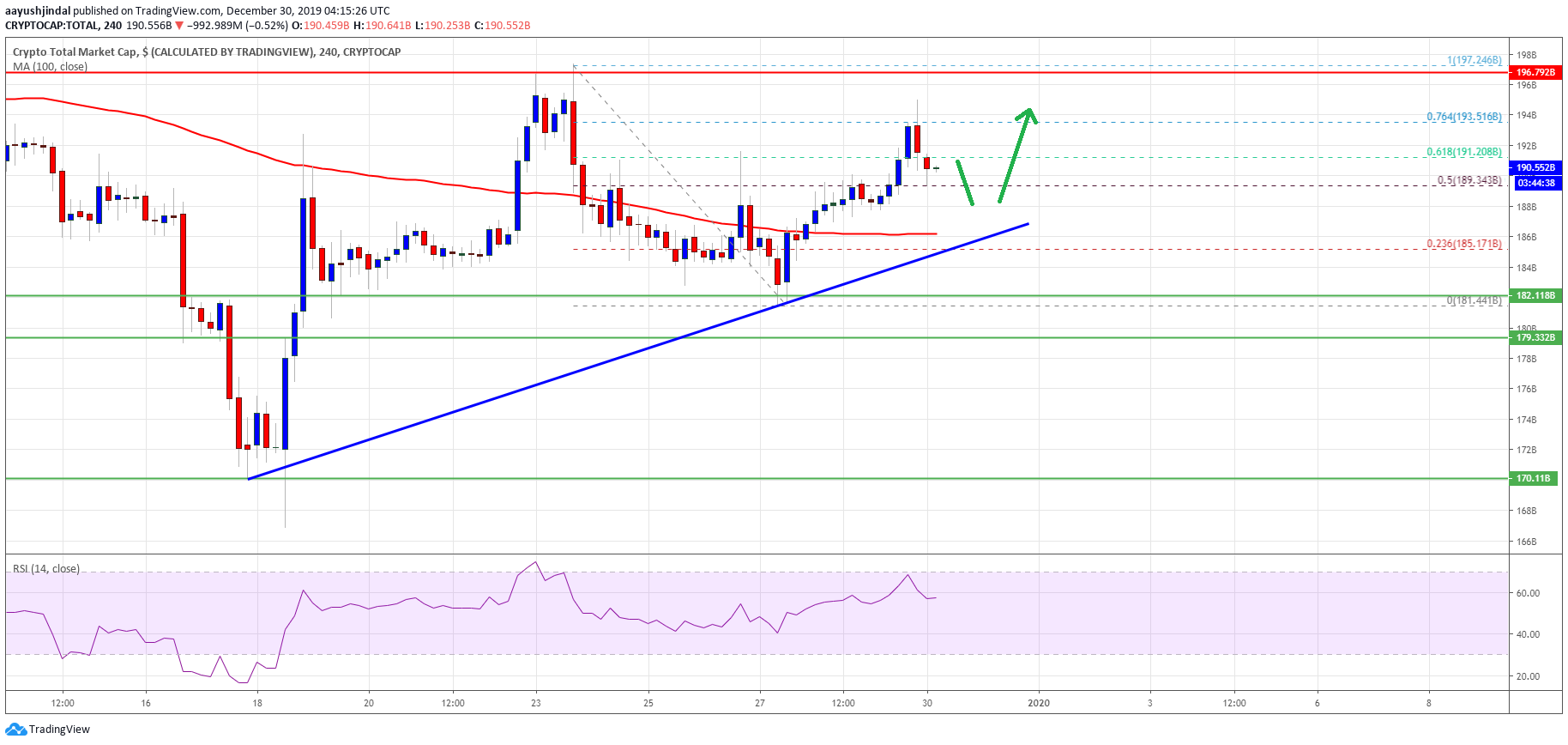 Looking at the total cryptocurrency market cap 4-hours chart, there was a decent recovery above the $182.0B and $185.0B resistance levels. The crypto market cap even rallied above $190.0B and tested the $195.0B resistance.
It is currently consolidating near the $190.0B levels, with supports near $185.0B. On the upside, a clear break above $200.0B is likely to spark strong gains in bitcoin, Ethereum, EOS, litecoin, ripple, binance coin, BCH, TRX, XMR, XLM and other altcoins in the near term.