The bitcoin price on Friday jumped 7.48 percent to establish a fresh five-month high towards $5,864. The uptrend further pulled altcoins out of their bias conflict scenarios.
Ethereum, for instance, printed 4.5 percent gains against the dollar in the last 24 hours. Similarly, XRP, EOS, Bitcoin Cash, Litecoin, and others also trended in positive territory after a week of sideways action.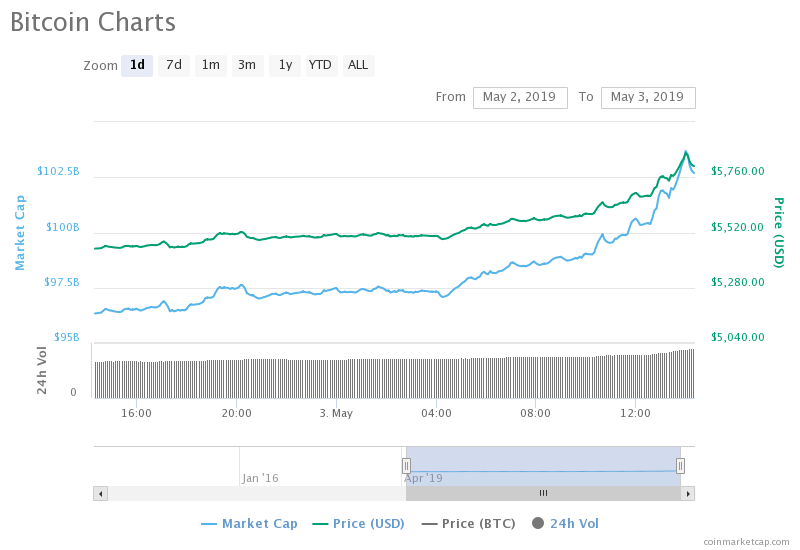 Nevertheless, the top altcoins underperformed against bitcoin. The last 24 hours saw Ethereum dropping 1.85 percent of its value against the king cryptocurrency. Similarly, Ripple's XRP plunged 3.76 percent, Stellar dived a whopping 5.23 percent, and Cardano and Tron fell close to 3.5 percent each against bitcoin. Only Dash and Binance Coin managed to hold their gains.
The move helped bitcoin strengthen its dominance in the cryptocurrency market. Against a 33.41 percent control recorded on January 8 last year, the bitcoin market today covered more than 55 percent of the total cryptocurrency market. The statistics showed that more traders were flocking towards bitcoin during interim bullish sessions.
$BTC pairs in the past hour

"sir…there were no survivors" pic.twitter.com/IDLhb8KxnQ

— Josh Olszewicz (@CarpeNoctom) May 3, 2019
The Josh Rager Bitcoin Theory
Cryptocurrency analyst Josh Rager said ahead of the ongoing rally that BTC had closed above its crucial resistance level while altcoins were already pulling back without achieving the said mettle. The analysts theorized that bitcoin – therefore – had a better probability of extending a bull run than Ethereum, Litecoin, and EOS.
"BTC looks stronger & closed above resistance while other altcoin majors hit resistance & pulled back," stated Rager. "[I] would love to long/buy on a BTC pullback at $4,339-4,769 zone. Bitcoin has room to push up over $6,383 on 1M Chart so no promises on a pullback at this moment."
$BTC vs Majors Month Chart

BTC looks stronger & closed above resistance while other alt majors hit resistance & pulled back

Would love to long/buy on a Bitcoin pullback at $4339 – $4769 zone

Bitcoin has room to push up over $6383+ on 1M Chart so no promises on pullback atm pic.twitter.com/X86vmIVDi4

— Josh Rager ? (@Josh_Rager) May 1, 2019
A few of these altcoins closed above their respective resistance areas during today's trading session. The litecoin price, for instance, is now trending above $74.80. At the same time, Ethereum and EOS are still waiting to break above their resistance levels.
Meanwhile, bitcoin, whose last crucial resistance was lurking near $4,769, has confirmed an extended bull action, with its next upside target set towards $6,000.
The Potential BTC Pullback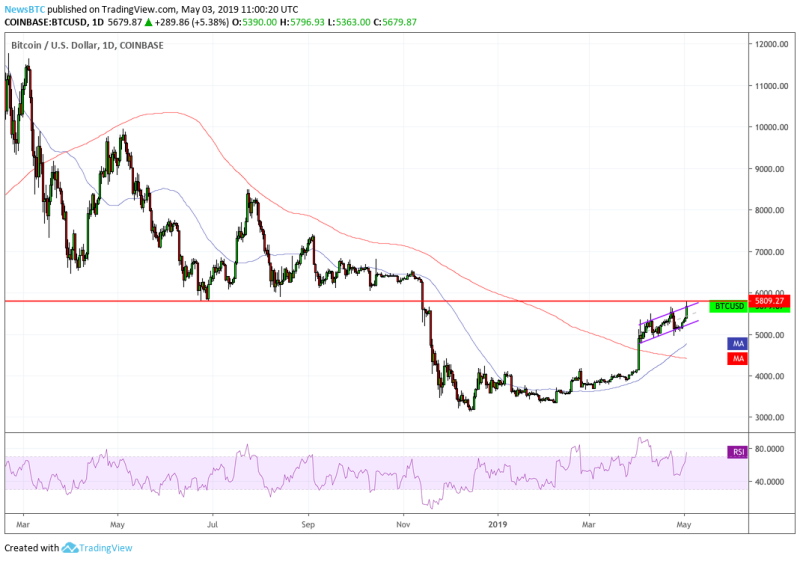 The latest bull action brought the bitcoin price close to $5,809. This level in June 2018 served as strong support to bitcoin's downtrend sentiment. The chart above shows two occasions in which the $5,809-level capped the price from extending its bear run. The level continued to provide atmospheric support on each of bitcoin's downside attempts, unless the inconvenience caused by the Bitcoin Cash hard fork in November 2018 finally broke it.
Even today, the bitcoin price tested $5,809 before hinting a minor pullback. There is a possibility of BTC achieving $6,000 if it establishes an explicit breakout action above $5,809 – buying action accompanied by an increase in volume. Such a move could further increase BTC's dominance in the cryptocurrency market.