Bitcoin's price action has given investors mixed signals as of late, with the benchmark cryptocurrency oscillating between $10,000 and $11,000.
The resistance found at the upper boundary of this trading range has proven to be quite significant, as it has catalyzed numerous rejections throughout the past few weeks.
Analysts are now widely offering mixed outlooks on BTC in the near-term, noting that its mid-term trend depends almost entirely on whether or not it is able to break above $11,000 in the near-term.
Despite a foggy technical outlook, the cryptocurrency's fundamentals remain incredibly strong, and one indicator is even suggesting that a massive upside move could be right around the corner.
This on-chain indicator has been declining for a while, but just bounced at a historically significant level. In the past, reversals at this level hint that a parabolic rally is imminent.
Bitcoin Struggles to Maintain Its Momentum as $11,000 Selling Pressure Grows
At the time of writing, Bitcoin is trading down marginally at its current price of $10,850. This marks a notable surge from its recent lows of $9,900 that were set just over a week ago, but the cryptocurrency still remains down from recent highs of $12,400 that were set at the end of August.
The cryptocurrency's price action in recent days has mostly consisted of it slowly grinding higher until it tapped highs of $11,100.
The selling pressure at this level was significant and nearly instantly catalyzed a sharp selloff that caused the crypto to plunge down towards $10,750.
It has been trading sideways ever since, and where it trends in the near-term will likely depend on its continued reaction to the selling pressure that has been established at this price.
On-Chain Indicator Signals a Bull Run May Be Imminent
While looking towards the cryptocurrency's "short-term holder unrealized profit/loss" (STH-NUPL) indicator, it appears that Bitcoin could be on the cusp of making a strong push higher in the near-term.
Rafael Shultze-Kraft – the CTO of analytics platform Glassnode – explained that he believes this indicator is now flashing a signal that is historically only seen before the market enters bull runs.
"Short-Term Holder Net Unrealized Profit/Loss (STH-NUPL) with a #bullish signal here imo! That bounce of the 0-line was important, is very characteristic for previous bull markets, and historically a good buying opportunity," he explained.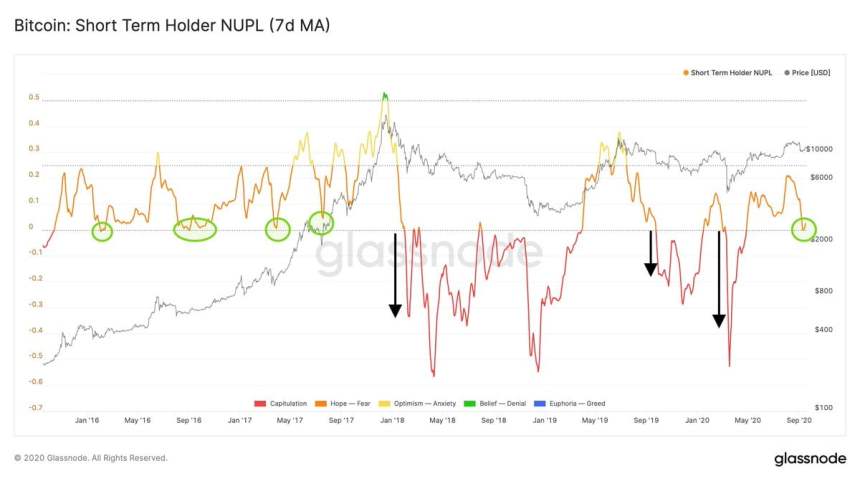 Image Courtesy of Glassnode.
If history rhymes and this indicator continues to maintain its accuracy, this could be a sign that significant upside is imminent for Bitcoin in the months ahead.
Featured image from Unsplash.
Charts from TradingView.