Bitcoin's price action has been somewhat stagnant as of late, with the selling pressure found throughout the lower-$11,000 region proving to be too much for bulls to break.
Today, however, buyers have been stepping up and attempting to generate some significant buying pressure, likely with the aim of breaking above $11,300. Because this is the last resistance level before $12,000, a break above it could catalyze a considerable upswing.
That being said, how BTC trends as its weekly candle close fast approaches should provide analysts and investors alike with some serious insights into its near-term outlook.
One analyst explained that flipping $11,200 into support is an imperative next step for BTC to see further gains in the near-term.
He does note that it will not be easy for bulls to achieve this, but it is vital to maintain BTC's macro bullishness.
Because of the slight strength it has expressed throughout the past few days, there's a possibility that a test of this level is imminent.
Bitcoin Pushes Past $11,000 But Still Faces Heightened Selling Pressure
At the time of writing, Bitcoin is trading up just over 1% at its current price of $11,080. This is around the price at which it has been trading at all morning, with bulls and bears largely reaching an impasse.
It is important to note that BTC's buyers did try to push it up to $11,200 earlier today, but it was stopped short by just a hair, and subsequently began plunging lower.
Where it trends next may depend primarily on whether or not buyers can hold it above $11,000 during its upcoming weekly candle close.
Holding above here could allow it to see significantly further upside, and maybe even spark the next leg up in its macro uptrend.
Analyst: $11,200 is a Key Macro Level for Analysts to Watch
While speaking about Bitcoin's present technical outlook, one trader explained that he is closely watching to see how it reacts to $11,200.
"BTC HTF Update: Target / Major resistance finally hit, if you worried about price dropping from here and using leverage then close out your position and wait for this level to be flipped support… $11,200 is a key HTF level for flipping it will not be easy," he explained.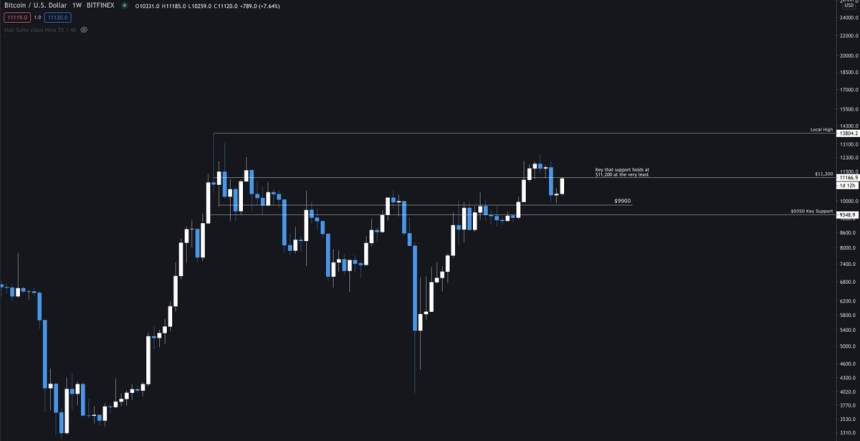 Image Courtesy of Cactus. Chart via TradingView.
The coming few days and weeks should elucidate the benchmark cryptocurrency's mid-term trend.
Featured image from Unsplash.
Charts from TradingView.