The bitcoin price rose to as high as $8,916 across major cryptocurrency exchanges like BitMEX and Binance on January 15. Since then, BTC fell by three percent in a typical short-term top formation.
Lower time frames indicate a double top structure, which normally suggests that the asset tried to break above a key resistance level twice in a short time frame and failed.
$8,900 has acted as a heavy resistance level since late October. BTC has breached that level for the first time since mid-November, 2019.
What's next for bitcoin in the short-term?
On December 21, 2019, the bitcoin price dropped to $6,410 on both spot and large-scale margin trading platforms. It marked a near-term bottom, printed a classic inverse head and shoulders pattern, and surged by 39 percent within a month.
After a near 40 percent rally, a pullback is necessary. Following an abrupt overnight rally, it is healthy for an asset to correct, as it strengthens the macro trend of the asset.
Although a pullback has been anticipated after such a large upsurge in merely a weeks time, some traders are considering the possibility of the bear trend not being over yet.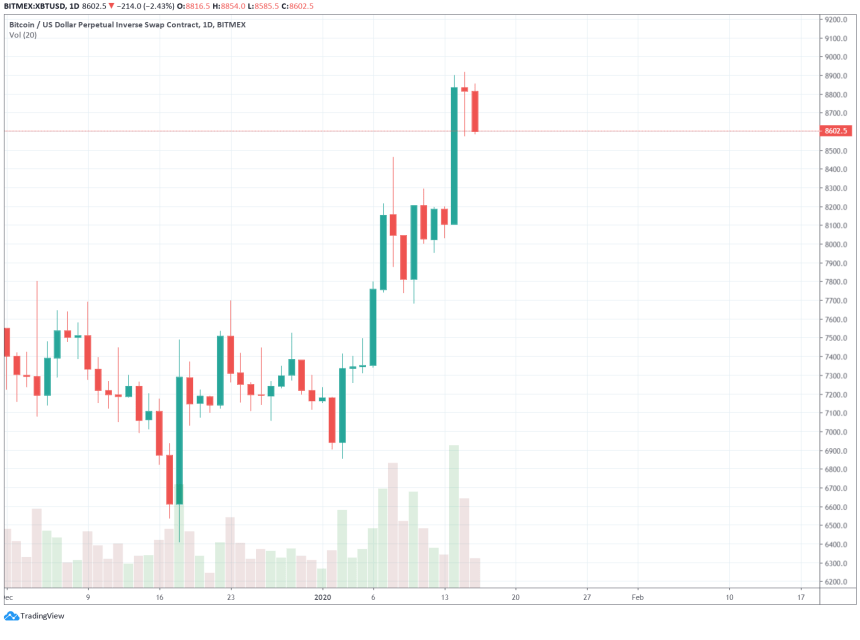 One prominent cryptocurrency trader wrote:
"If you're struggling to mark out basic market structure, then switch to a line chart and have a look at the weekly.  See a lot of charts flying around trying to illustrate that BTC has broken its bearish market structure. It hasn't."
In a way, the recent breakout of bitcoin above $8,900 echoes the trend the market saw in in the last week of October when the bitcoin price rose to $10,600.
In 2 days, the bitcoin price increased by 43 percent from $7,400 to $10,600, and proceeded to fall by 40 percent in the following two months.
Fears of a deeper correction in the short-term are arising because of the magnitude and the speed of the rally.
The move to $8,900 was somewhat expected throughout the past two months, but its large overnight rally and the explosive recovery of the altcoin market rattled many traders.
Are altcoins leaving BTC vulnerable?
As billionaire cryptocurrency investor Mike Novogratz said, it was difficult for even investors that have been involved in the market for a long time to see altcoins rally in the manner it did in the last 72 hours.
I'm not sure I understand the altcoin rally. Happy for those making money on it. But not sure what changed. Maybe new year, new money, new enthusiasm. Dinner in NYC for best explanation.

— Michael Novogratz (@novogratz) January 15, 2020
Cryptocurrencies like Bitcoin Cash, Ethereum, Bitcoin SV, EOS and Litecoin increased by anywhere in between 20 to 140 percent within a 12-hour span.
Subsequent to such a large short-term upsurge, a correction often ensues. The sheer magnitude of the altcoin market rally could possibly leave BTC vulnerable to a larger correction than anticipated.
As the valuation of the cryptocurrency market rose by nearly $40 billion in about five days, large sell-orders on major exchanges started to emerge.
https://twitter.com/JacobCanfield/status/1217605384908820486
Whether the rejection of BTC at $8,900 is merely a healthy pullback only to retest $9,000 and levels above it once again or is a continuation of its bearish trend remains to be seen.
There is significant interest in the margin trading market with open interest almost doubling in a week, and it means a big movement is imminent.