The bitcoin price looked to be en route of surpassing a key resistance level at $8,250 that would leave it open to testing $9,000 and levels higher above it. But, the weekly close below $8,500 may leave it vulnerable for a steep pullback.
In short-term trading, a weekly close is considered an important element that plays a factor in how the following week reacts. At crucial periods, a weekly close often dictates the price trend of bitcoin for many weeks that follow.
Bitcoin unable to close above $8,500 and a pullback is on the table
Prior to the weekly close on January 13, prominent cryptocurrency trader Jacob Canfield emphasized the importance of surpassing $8,500 and closing above it.
"I see a lot of bullish sentiment in the market. While I would love to see #Bitcoin reach $50,000, I still remain pragmatic an unbiased in my market view High time frames are still showing lower highs and RSI in a 'transition' zone. Need to see a weekly close above $8500+ in my opinion," he said.
On lower timeframes, bitcoin attempted to break out of the $8,400 level three times in the past week. All of the failed tests as well as the relatively week closing of the weekly candle indicate that BTC is not ready to climb above $9,000 in the short-term.
On the 4H, bitcoin also saw a sharp rejection at $8,180, a level which it has kept since January 11.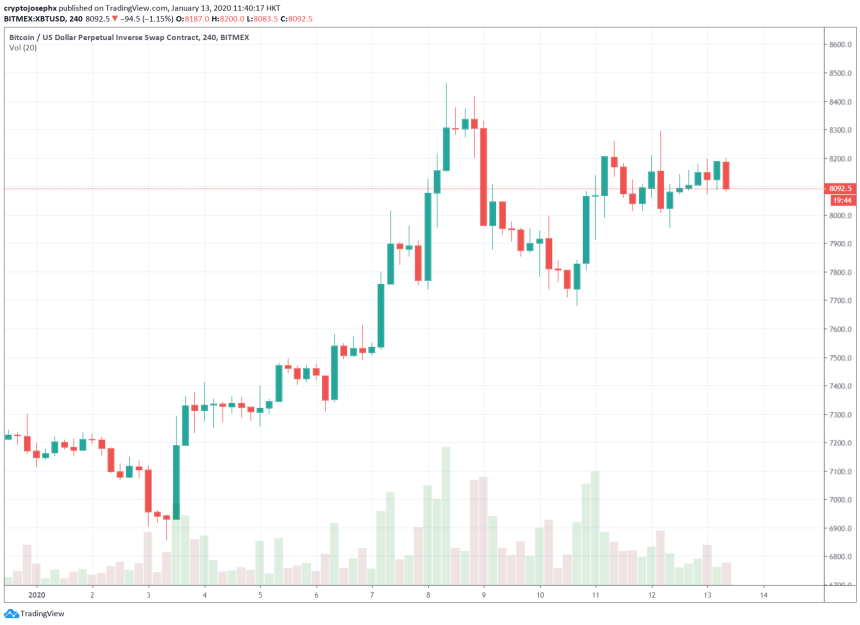 Bearish outlook on the bitcoin market comes after almost two weeks of bullish sentiment, with technical indicators suggesting an extended rally is imminent.
Altcoins have been on the decline after a strong week
After a strong week, major altcoins such as Ethereum and Bitcoin Cash have started to fall steeply against the U.S. dollar.
Bitcoin Cash, for instance, which recorded a 21.5 percent gain in a week, fell by 3 percent on the day from around $271 to $262.
Ethereum, despite having big buy walls on major cryptocurrency exchanges, fell from $147 to $143.
The decline in the momentum of altcoins after an explosive week indicates investors are becoming increasingly cautious about the short-term trend of bitcoin and other major cryptocurrencies.
Throughout the past three weeks, the altcoin market has followed the price trend of bitcoin, which often happens during a bearish trend.
Whether the week close of the weekly candle of bitcoin and the failed tests of $8,400 will lead to a major response from traders remains to be seen.
Since January 6, BTC has been in a relatively tight range between $7,800 and $8,200, struggling to move to a certain direction.