Bitcoin has been facing immense turbulence throughout the past several days, with sellers forcing its price down to lows of $9,900 this morning following yesterday's ardent defense of the upper-$9,900 region.
It now appears that the cryptocurrency is at risk of seeing further downside in the near-term, as the multiple attempts to shatter its $10,000 support seem to indicate that bears are building momentum.
One analyst is noting that the cryptocurrency's pivotal price region to watch in the near-term sits at $8,140, which could mean that a decline to this price is imminent in the near-term.
This would coincide closely with the middle of the macro trading range that the cryptocurrency has formed throughout 2020.
Another analyst concurs that a decline to this price region is likely imminent in the near-term.
Bitcoin Struggles to Maintain Position Above $10,000 as Sellers Step Up
At the time of writing, Bitcoin is trading up marginally at its current price of $10,300, which is around where it has been trading for the past day.
Earlier today, however, sellers sparked a sharp downside movement that sent its price reeling down to lows of $9,900.
The dip to this level was short-lived, however, and bulls quickly stepped up and stopped it from seeing any further losses.
Despite $10,000 being a strong support, the multiple dips below this level shows that Bitcoin's bears are testing the waters and may be garnering support for another significant downwards push.
One trader explained that he is watching for a move down towards $8,140, as this is the cryptocurrency's yearly pivot.
"Here's my BTC TA: 1) Neck-line 11'260$, bearish until reclaim and hold above. 2) 8'140$ area = yearly pivot, I'd looks for buys. Stocks have been a driving factor: markets correlated during crashes, keep an eye on what legacy markets are doing," he said.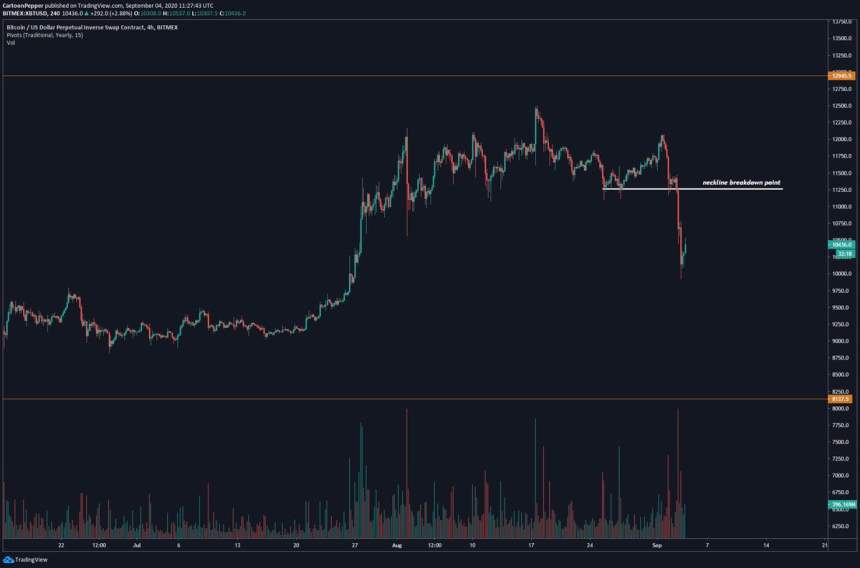 Image Courtesy of SalsaTekila. Chart via TradingView.
If BTC Breaks $10,000, It May Visit its 2020 Mid-Range Support – Analyst
Another analyst explained that he is watching for a move down towards Bitcoin's mid-range support at $8,000 if it breaks below $10,000 – which corroborates the aforementioned analysis.
"IF we make a clean break below 10k, i think we could make a move towards 2020 mid range," he said while pointing to the below chart.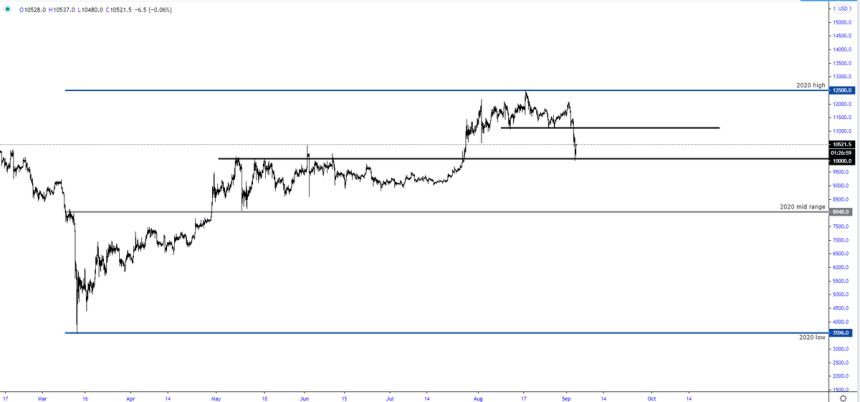 Image Courtesy of TraderSZ. Chart via TradingView.
How the crypto reacts to $10,000 throughout the coming few days should provide insight into its near-term outlook.
Featured image from Unsplash.
Charts from TradingView.