Bitcoin is known for its parabolic movements to the upside; BTC's infamous rally from $1,000 to $20,000 in 2017 was a clear parabola higher, marked by rapidly-increasing highs and an eventual blow-off top, which saw BTC correct 60% within weeks after the peak.
Though, the cryptocurrency also trades parabolically to the downside. A prominent analyst recently touched on this, warning that the "downside parabolic structure" Bitcoin is currently forming suggests a stronger crash is nearing.
Bitcoin Could Crash Further, Predicts Bearish Parabolic Structure
Jacob Canfield, a CNBC-featured trader, shared the below chart on Friday morning, showing that Bitcoin is trading in an "aggressive" parabolic structure to the downside, marked by fresh lows being made faster and faster as time progresses. Accentuating the bearish nature of this, he wrote:
"This recent structure has a much more aggressive slope to it than the post-china pump bleed out, which means sellers are more aggressive."
Canfield's depiction of the parabola suggests that should Bitcoin fail to break above it, the asset will fall to $6,400 — the range low that has been formed over the past few months — by the second week of March, just 10 days away. For some context, BTC moving to $6,400 from the current price of $8,750 will mean the asset falls nearly 27%.
There Are Some Positive Signs
Although the parabola remains intact, there are signs the cryptocurrency may soon see some bid.
Per previous reports from NewsBTC, analyst CryptoWolf thinks Bitcoin holding the 21-week exponential moving average (currently at $8,750)— a popular moving average used by analysts to determine an asset's directionality — will imply the "start of a new parabolic advance."
Indeed, he shared the below chart, indicating that the previous bull run that took BTC from $1,000 to $20,000 was punctuated by consistent bounces off the 21-week EMA.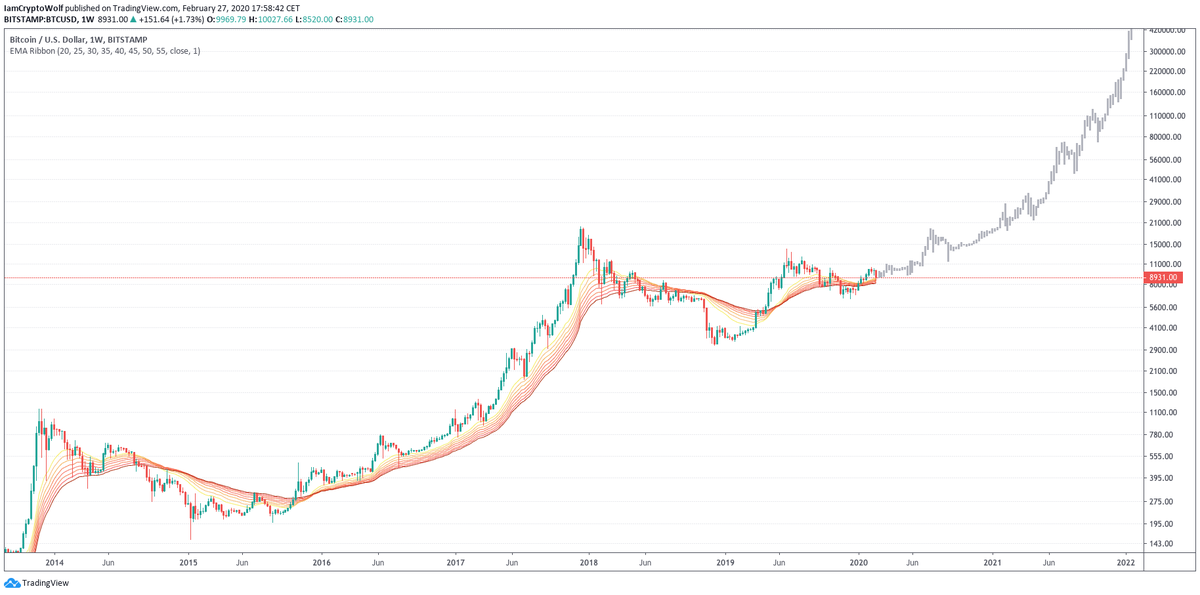 BTC seems somewhat poised to hold this level on a weekly basis, now trading exactly where the moving average is. CryptoWolf's tweet implies that if Bitcoin manages to hold the aforementioned moving average, it will be cleared to experience a strong recovery in the coming weeks.
Not to mention, the crypto market's fundamentals seemingly remain astronomically positive; just today, Jerome Powell, Chairman of the Federal Reserve, strongly suggested that the central bank may soon be cutting its policy interest rate yet again.
Top analysts, both in traditional and crypto markets, think that easy monetary policy will be a massive catalyst for Bitcoin's growth in the future.
Featured Image from Shutterstock