After an impressive rise during the Coinbase euphoria, the bitcoin price didn't manage to remain near the reached peak levels. Although Bitfinex BTC/USD climbed up to $314, a bearish bias has started haunting the bitcoin price once again. In the meantime, the 24-hour trading volume dropped by about 100.000 BTC.
All those signs indicate that the precedent price rise was nothing more than an overreaction over the hype created by the news. The whole spike could have been caused by a small group of wealthy traders that saw the Coinbase news as an opportunity to spread some bullish hype around the market. Apparently this move created an opportunity for those wealthy traders to dump, lots of coins were dumped when the price reached its peak. This was the clear end to the buying craze.
The selloff on January 28
Bitcoin price started trading at around $250 on the 28th. In that day, the market was experiencing a correction from the peaked prices some large sell. During the first hours, there were almost no movements because of the unsubstantial trading volume. But later on, a huge selloff took place. The price was pushed below the previous support level of $240 to reach the lows of $220 after some enormous selling pressure.
The next day for the bitcoin price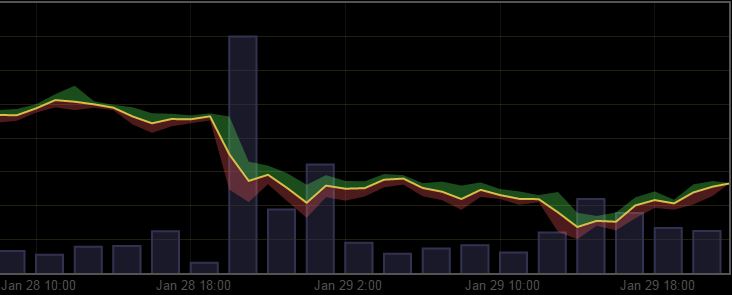 As seen on the chart above, the bitcoin price rebounded after it fell below the support level of $24o. However, the recent events in the market don't indicate that the movement can keep going upwards for a long time. The price was struggling to remain above the $240 support level even before the big selloff, and the recovery wasn't that impressive. The selling pressure still seems to be overwhelming after today's recovery. A downward velocity is becoming clearly visible. Judging from the recent events, the Bitcoin price might even move to the lower 200s if the bearish mood keeps dominating the market.
Images from Bitfinex and Bitcoinity.