Shortly before the markets closed on Friday for the weekend, we published our twice-daily bitcoin price watch piece to highlight the levels that we were keeping an eye on in the bitcoin price during Friday evening and beyond. We suggested how we might respond to price reaching a couple of these levels, and how we could enter to take the scalp position on the breakout of a range. Now action has matured over the weekend, and we have carved out a couple of fresh key levels to watch. What are these levels, and how can we get into the markets during today's session? Take a quick look at the chart.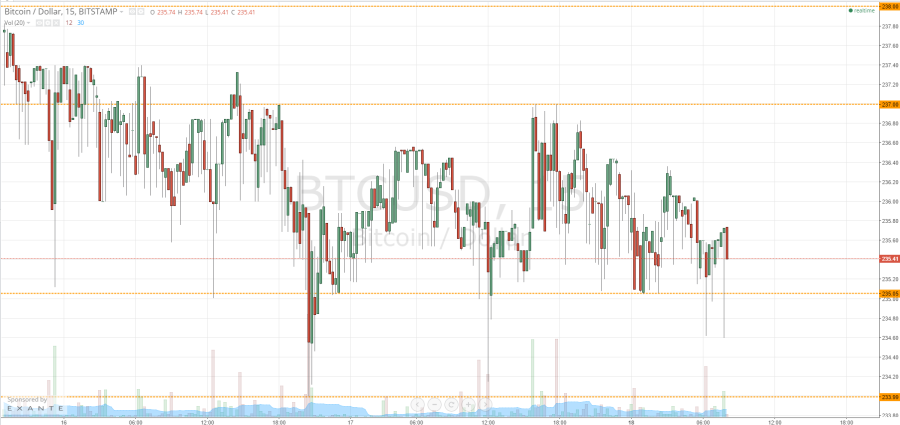 At the chart shows, throughout the majority of yesterday evening and this morning, prices ranged between 235.05 and 237 flat. The former (235.05) now serves as in term support, while 237 flat presents us with in term resistance. These are the two levels we will be watching as we head into today's European session.
If we get a break below 235.05 it would put us short, with an initial downside target of 233.99. In this trade, a stop loss somewhere around 235.6 will take us out of the trade in the event of the bitcoin price reversing to trade back within its range, and to ensure that we are looking to pocket more reward and we are giving away risk on the position.
Looking the other way, if price bounces from current levels and we get a run towards 237 flat, we will look for a break above this level to validate a tight quick long trade towards 238 flat. With the trade being so tight, a tight stop loss is necessary, so we will be looking to get out of the trade on a reversal somewhere around 236.5 giving us a 1:1.5 risk to reward ratio.
Charts courtesy of Trading View