Bitcoin has been consolidating since falling to a low of 166.45. After popping up above 300 briefly, it has been consolidating in February.
Bitcoin (BTCUSD) 4H Chart 25/2/2015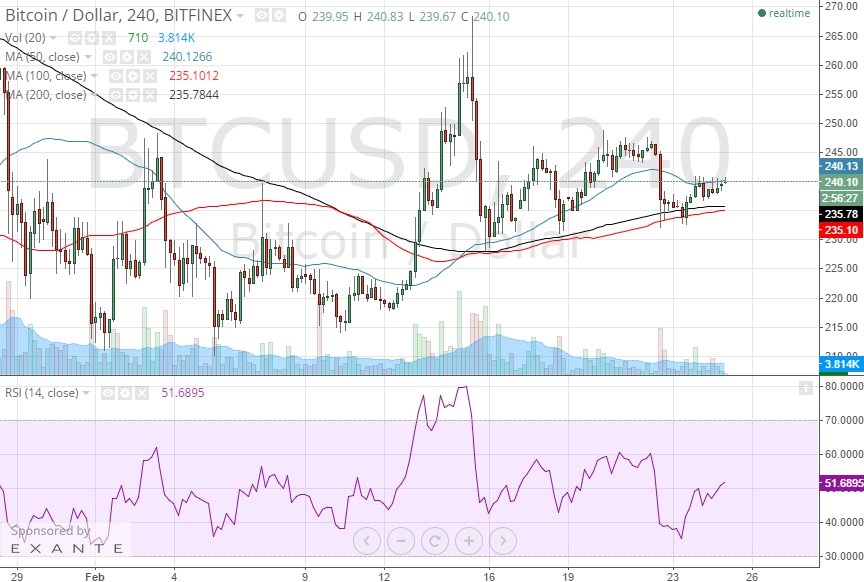 (click to enlarge)
In February, bitcoin made another push after failing to clear below 210 several times as we can see in the 4H chart above. Here are some other observations:
1) Price has rallied and held above the 200-, 100-, and 50-period simple moving averages (SMAs). This usually reflects bullish bias, but we can see that this bias is young because price only recently came up above the SMAs. Still, the fact that the cluster of SMAs are acting as support shows that bulls are still in charge in the 4H time-frame.
2) The RSI stayed above 40 except for a brief violation. Now, if the RSI tags above 70 it is telling us that bitcoin is overbought. We can argue that technically; the 40 level was violated, but we can see that bitcoin is trying to hang on to this bullish momentum, and so far has succeeded.
Though bitcoin is hanging on, we should not be too excited about the upside. The 245-250 area has proven to be a key resistance area throughout January and February, so we might want to limit the bullish outlook in the near-term to this area.
Now, let's take a look at the 1H chart.
Bitcoin (BTCUSD) 1H Chart 2/25


(click to enlarge)
In the 1H chart, we see a choppy sideways market. Here are some observations of the most recent price action.
1) Price dipped below the 200-, 100-, and 50-hour SMAs. Remember in the 4H time-frame, we saw some bullish bias. Well in the 1H chart, with price under these SMAs, we are seeing some bearish bias.
2) Remember the 4H RSI trying to hang on above 40 to show maintenance of the bullish momentum in February. In the 1H chart, we see the RSI holding below 60 after tagging below 30, which reflects maintenance of the bearish momentum this week.
We can say that BTCUSD is at the  crossroad, and if price pushes above 241, it will clear the bearish bias in the 1H chart, and put the pressure towards the 245-250 level. However, if price falls back below 236, it would be thought for BTCUSD to maintain February's bullish bias, and the downside risk will open up to to some common lows around 215, then the 166.45 low on the year.
Previous Bitcoin Post by Author: Bitcoin Price Technical Analysis for 24/2/2015 – Imminent Breakout
Charts from bitfinex