Just as we discussed in the previous Bitcoin price technical analysis that the US Federal Reserve raising the interest rates will put pressure on the BTC-USD pair, the inaction on part of the central bank has buoyed the pair. BTC/USD is currently trading up roughly 2 percent at $232.72.
The US Fed has decided to hold rates steady citing global economy worries. Fed Chair Janet Yellen said developments in a tightly linked global economy had in effect forced the U.S. central bank's hand.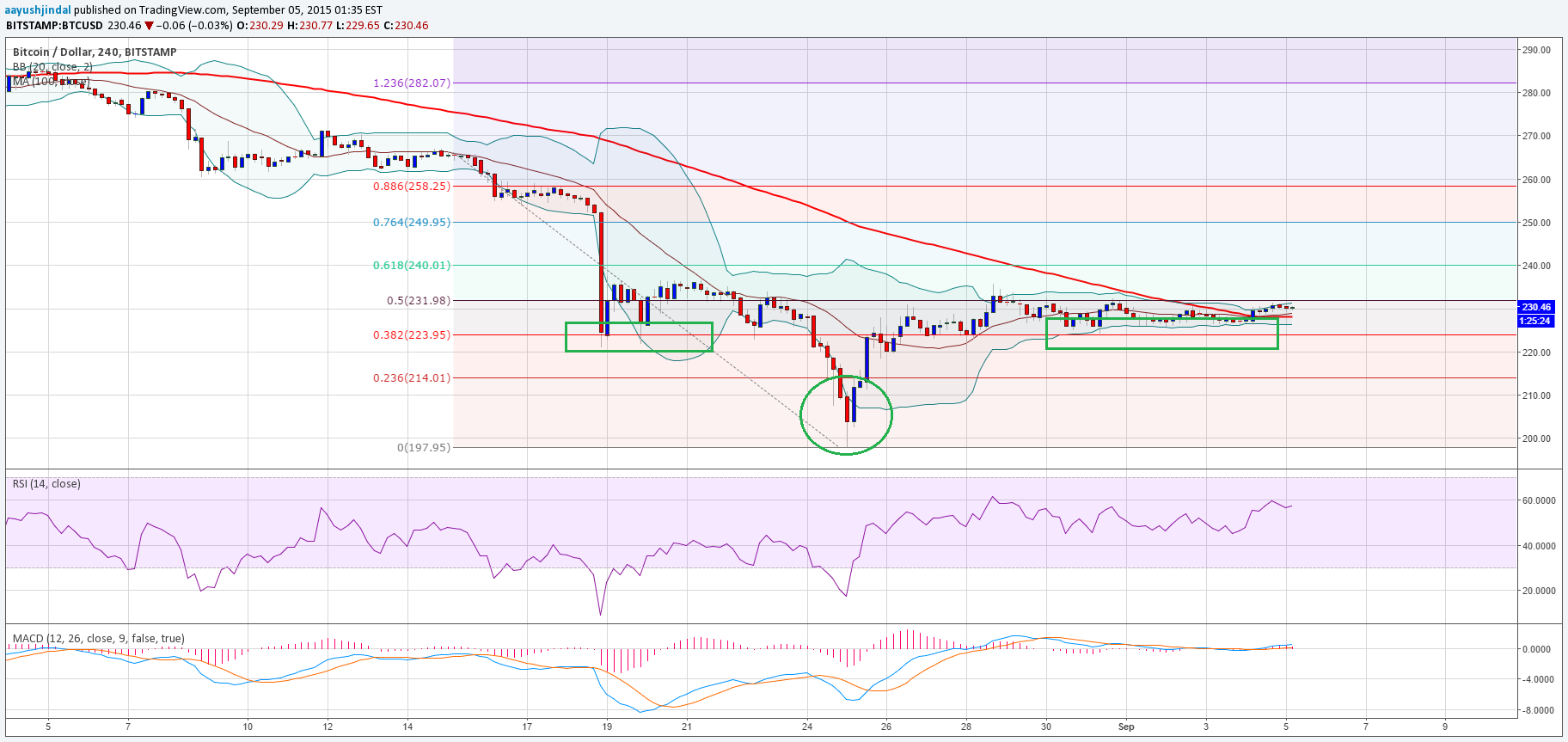 Image: https://www.tradingview.com/x/qqIsQwaz/
The Fed Rebound – the rebound in Bitcoin price due to Fed – doesn't change the technical picture much but has briefly warded off the risk of an immediate breakdown.
Bitcoin Chart Structure – The cryptocurrency has been taking support from $220-225, which is its strong support zone, however, the upside is capped by a couple of resistances. The 30-day simple moving average of $231.4197 and the 12-day simple moving average of $234.9008 are limiting the rise in value of Bitcoin.
Moving Average Convergence Divergence – The MACD remains beneath the Signal Line, thereby keeping the Histogram negative. The MACD is at -2.9249, Signal Line has a value of -2.8658 and the Histogram has a value of -0.0591.
Momentum – The Momentum indicator is reflecting the overall pessimism with a reading of -11.5100.
Money Flow Index – The MFI does not provide any significant insight with a value of 55.1856.
Relative Strength Index – The strength reading has taken a jump with a rise in Bitcoin price; the RSI value is now 45.8449.
Conclusion
Even though Bitcoin has managed to avoid or delay an immediate breakdown, it does not call for a "buy" action yet. The cryptocurrency does not present a low-risk trading opportunity at the current level, and therefore, market participants should wait for near-the-support levels or a rise up to $240 to initiate a trade.