The ongoing spree of extremely thin trading sessions has taken many market participants by surprise. After hitting levels of sub-$200, Bitcoin raced back up to hit $235-237 but very few would have expected the cryptocurrency to have gone tight-ranged since then.
Bitcoin is currently trading at $229.14, up 0.94 percent as the bulls manage to keep the price hovering near the resistance.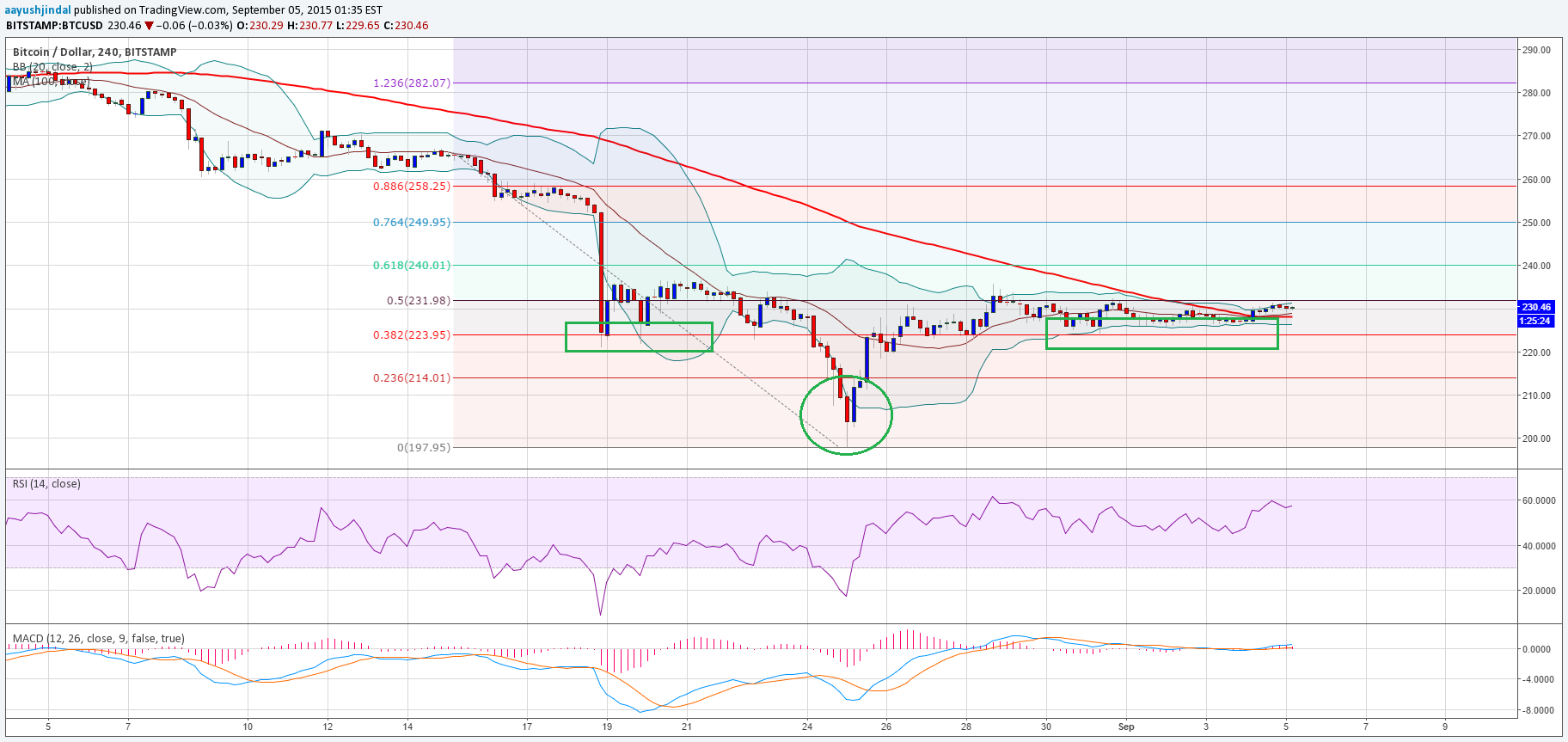 Image: https://www.tradingview.com/x/mu3925Xq/
As Bitcoin continues to trade near the recent highs, expectations are rising that the cryptocurrency may eventually pierce the resistance, but let us find out what the latest technical indications are.
Bitcoin Chart Structure – The resistance for Bitcoin is $235, above which, we may see the cryptocurrency head towards $260. But if the bulls continue to spend time below the resistance, then things may take an unfavorable turn for them.
Moving Averages – The 30-day SMA of $248.3953 has crossed the 200-day SMA of $250.7039 on the downside, confirming the bearish bias.
Moving Average Convergence Divergence – MACD continues to head for the less-negative levels after Histogram jumped into the positive territory. MACD currently has a value of -10.2286, Signal Line has a value of -12.7415 and Histogram has a value of 2.5129.
Momentum – The Momentum indicator is showing an uptick in its value; the latest reading is -1.8600.
Money Flow Index –The MFI continues to advance to 54.8100 even as the price remains below the ceiling resistance.
Relative Strength Index – The 14-day RSI value is horizontal at best. It is indicative of the underlying weakness with a value of 39.4868.
Conclusion
The current market situation is a very low-risk, high-reward opportunity for the market traders. Short now by maintaining a stop-loss above the resistance for a target of $215.
If the resistance is breached, then exit the short positions, and create fresh long positions for a target of $260.
Expect a big move in Bitcoin by the end of this week.