Bitcoin has risen 1.3% or $3.6 since yesterday as bulls finally make an attempt to approach the resistance. This is somewhat encouraging given that the Greek banks were opened yesterday and citizens were allowed to withdraw their Euros. Maybe the market is expecting the Greeks to convert their withdrawn Euros into Bitcoin for capital preservation purposes.
Currently trading at $279.69, Bitcoin offers low-risk trading opportunities to the market participants. But before we get to that, please take note of the wide divergence between the price action and the technical indicators.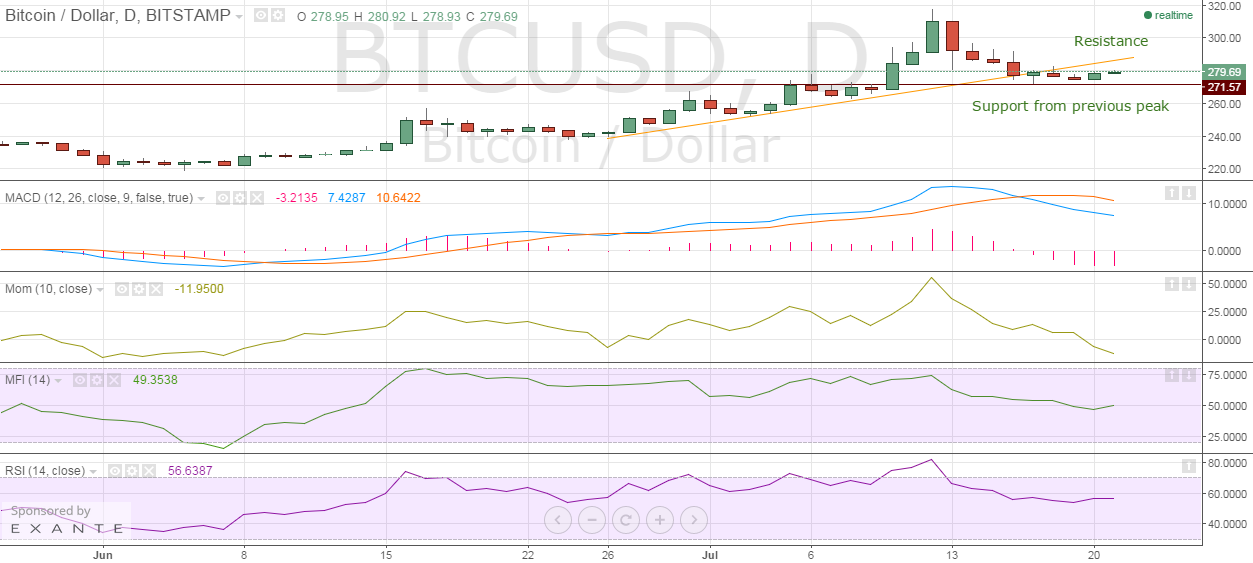 Image: https://www.tradingview.com/x/lOm9gaGQ/
Bitcoin Chart Structure – A closer look at the daily BTC-USD chart above would reveal that post its breach of the support line, Bitcoin tested floor from its previous peak and is currently in the process of base formation. If the price does break above the resistance, then we can expect a full-blown U-shaped recovery.
Moving Average Convergence Divergence – But there is a strong disconnect between the price action and the technical considerations. MACD has extended its string of losses and is now down to 7.4287 while the Signal Line has dropped to 10.6422. The Histogram shows no signs of reversal and its latest value is -3.2135.
Momentum – Another strong indicator working against the price is the Momentum indicator. The value has succumbed further to -11.9500, conveying that the price rebound could be a trap.
Money Flow Index – The MFI has edged up to 49.3538 following the advance in Bitcoin.
 Relative Strength Index – The RSI reading is relatively flat since yesterday, it is now at 56.6387.
Conclusion
As the time passes, the resistance posed by the upper sloping resistance is also shifted higher. In case, the price rises further, stiff resistance is expected to be met near $285-286. So, short with a strict stop-loss in place when the level approaches the danger zone. Buy only when the indicators start supporting the upmove and the price is above resistance.