Bitcoin has a peculiar nature: one of the most volatile currencies of the world will either become extremely volatile or it will go into "slumber mode" for days at a stretch. And it is during those inactive days, that market participants seriously long for some volatility. Right now, we are missing the volatility.
Bitcoin is currently trading at $276.49, down 0.52% since yesterday. With this, Bitcoin has extended its streak of no significant action to seven days. The investor participation is on the lower end.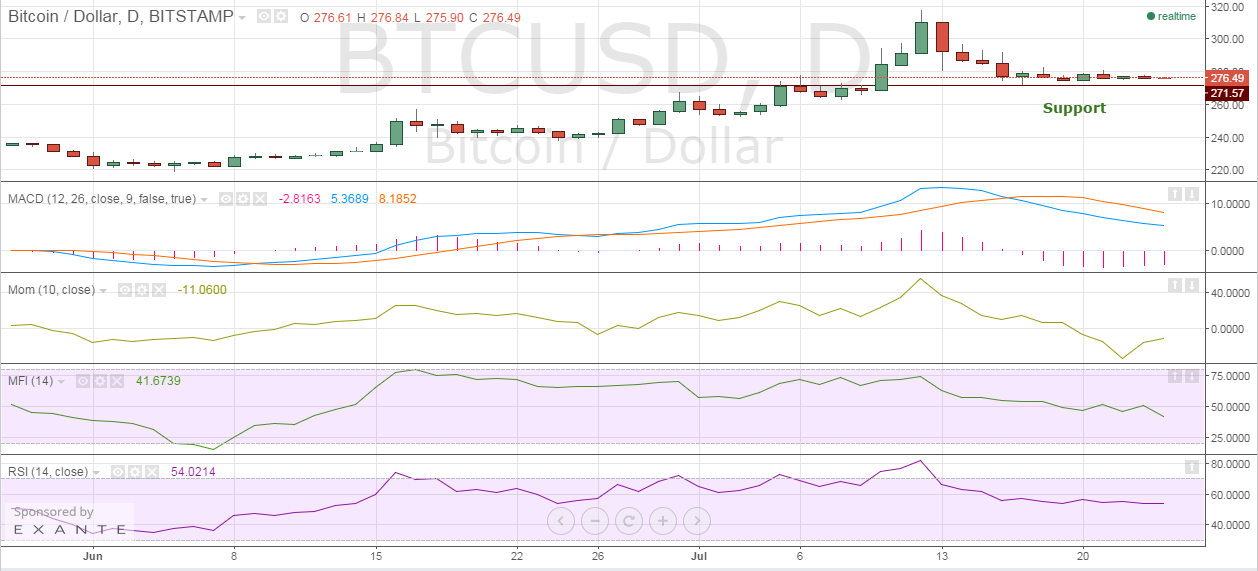 Image: https://www.tradingview.com/x/ISGUeLNm/
Technically, from the look of the daily BTC-USD price chart, it seems that Bitcoin is testing the patience of the market participants and we may see a spike anytime soon.
Bitcoin Chart Structure – The cryptocurrency continues to remain trapped inside $275-281 for a week now. It has been making attempts to close above $280, but the efforts have proved not enough. The support of $271.50 is expected to be pierced easily in case of a sudden fall.
Moving Average Convergence Divergence – The MACD and the Signal Line are maintaining their positive values. With MACD at 5.3689 and Signal Line at 8.1852, Histogram is still below the 0-level at -2.8163.
Momentum – The Momentum readings, even though off from lows, is still very negative at -11.0600.
Money Flow Index – The MFI is beginning to head lower; the latest value is 41.6739.
Relative Strength Index – The RSI is comfortably above the 50-mark reflecting that all is not lost for the bulls. The recent value is 54.0214.
Conclusion
Market participants are missing the volatile aspect of Bitcoin now. But in times such as this, trading should be done only near the extremes as discussed earlier in Deafening Silence.
Do not resort to impulse trading as there are no clear upside or downside targets. Wait for an opportunity to arise.