Bitcoin price has eased 1.32% from yesterday's trading amid increasing reports that the people of Greece may vote in favor of the austerity measures on July 5 and a Grexit will be averted. The bitcoin price temporarily stooped to a fresh low of $253.19 before gaining above $254.
Bitcoin Price is currently trading at $256.14.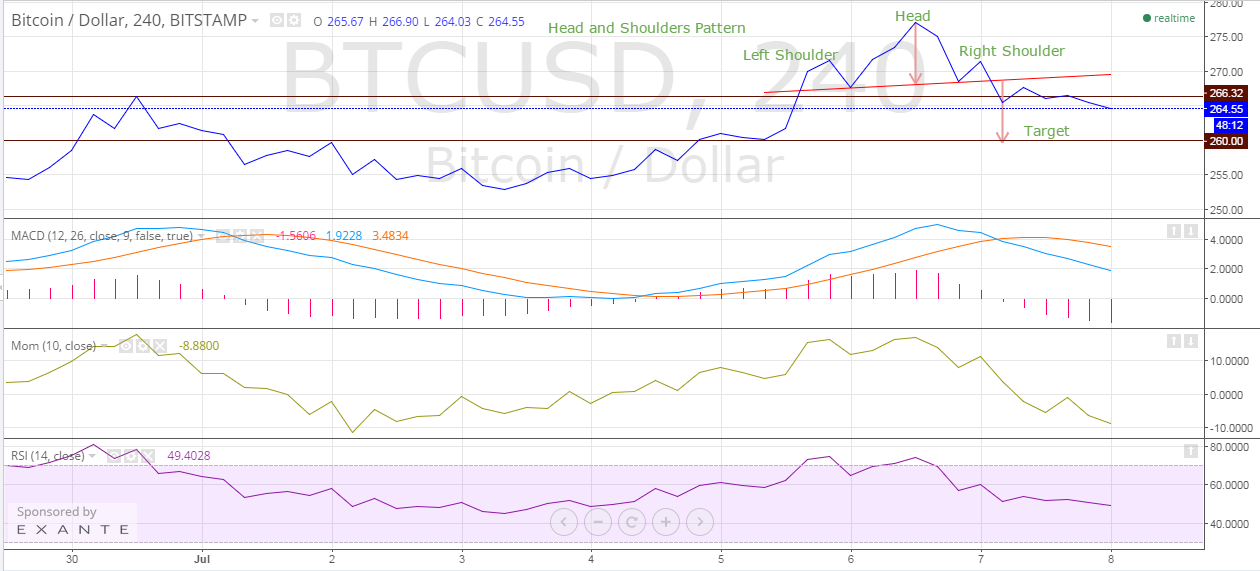 Image: https://www.tradingview.com/x/uLBpfJQm/
Technically, Bitcoin price has arrived at a make or break point as it heads into the weekend. The game looks perfectly well balanced and could turn either way. Take a look at what the 240-minute BTC-USD price chart and the technical indicators are saying.
Bitcoin Price Chart Structure – As can be seen from the chart above, Bitcoin has previously taken support from $254 at least twice and bounced, and traders have built long positions expecting a similar action once again. However, since the cryptocurrency is trading in a lower top, flat bottom structure, and has arrived at the point of intersection, the bitcoin price will break above the downward resistance (marked in the chart) even if it doesn't breach $254 on a closing basis.
Moving Average Convergence Divergence – Even though MACD and Signal Line are heading lower, the slide in the Histogram value seems to have been arrested. The MACD has plummeted to 0.8840 while the Signal Line is at 2.0113, thereby stabilizing the Histogram near -1.1273.
Momentum – The Momentum indicator has erased most of its losses, rising up to -0.3700.
Relative Strength Index – The indicator representing the underlying strength also points to a fairly balanced scenario. The latest 14-4h RSI value is 51.1355.
Conclusion
The market looks undecided regarding the future course of action. The bulls seem to be having just a slight edge over the bears, but that can all be lost if the Greeks vote 'yes' on Sunday. Wait for the referendum results before making a trade. Expect high volatility to rock the market.