Bitcoin has respected the descending triangle support level we discussed in the previous analysis. But, it is comfortably a sell on rise candidate.
Bitcoin is currently trading at $283.91, up $2.65 or 0.94 percent.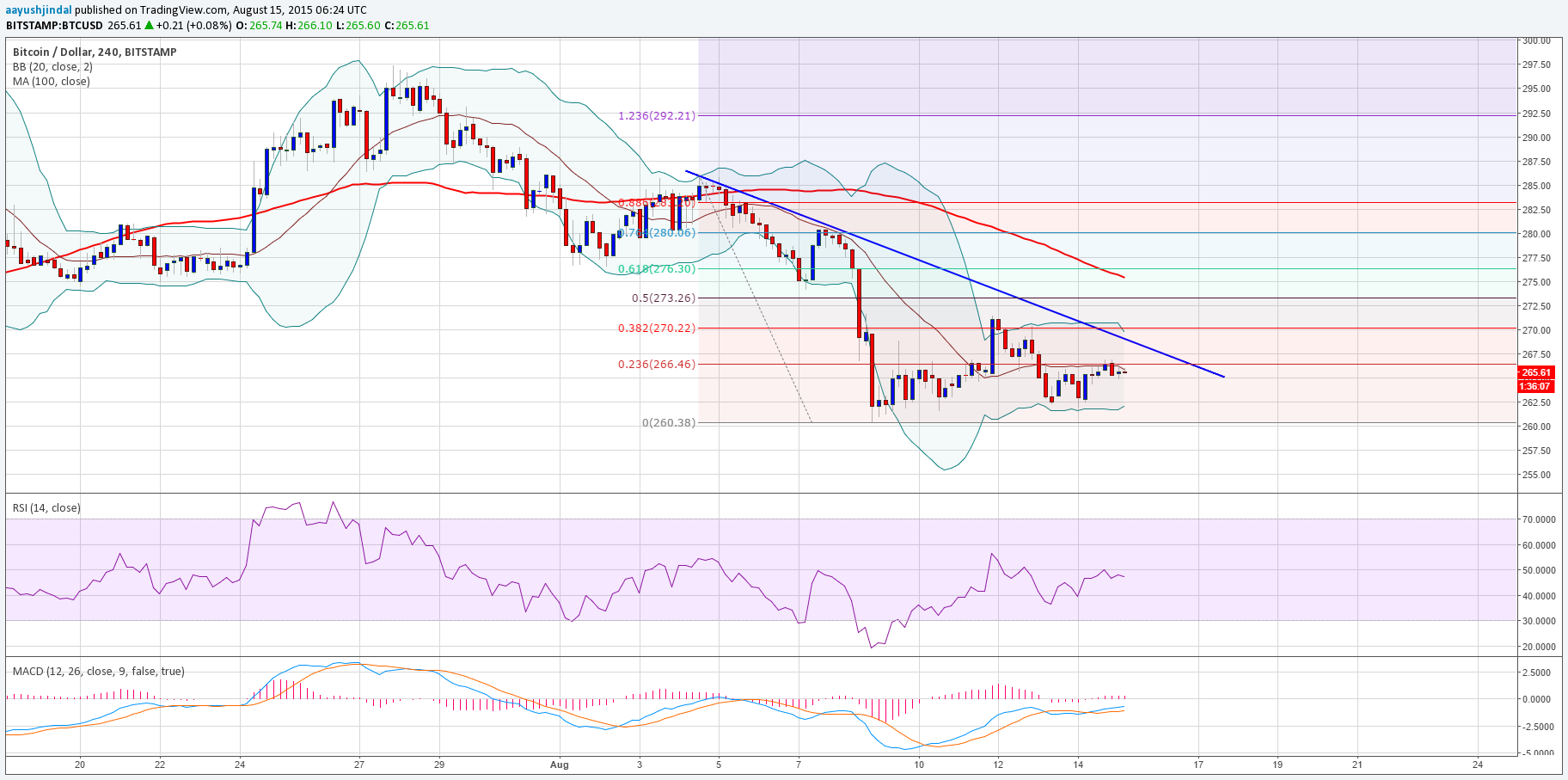 Image: https://www.tradingview.com/x/s77ECEtf/
Technical analysis of the daily BTC-USD price chart tells that market participants may soon get an opportunity to short Bitcoin at a low-risk level.
Bitcoin Chart Structure – The base of the descending triangle around $276 is attracting some buyers. Similarly, the downward sloping resistance line is expected to pose obstacles around $288-290.
Fibonacci Retracements – The 38.2% Fibonacci retracement level of $280 also provides a cushion to the Bitcoin price.
Moving Average Convergence Divergence – The MACD has now slid to its lowest level in over a month as negativity hounds Bitcoin. The most recent values of MACD, Signal Line and Histogram are 3.5370, 5.8532 and -2.3161 respectively.
Momentum – The Momentum indicator is still in the negative region with a value of -4.8700.
Money Flow Index – The MFI is showing signs of weakness; the latest value is 58.9719.
Relative Strength Index – The 14-day RSI value is suggesting that Bitcoin may consolidate some more time before a breakout on either side of the narrow range.
Conclusion
The chart structure is bearish and the technical indicators do not paint a positive picture either. Short Bitcoin on rallies up to the marked resistance zone by placing a stop-loss above $290. I am expecting the support of $276 to cave in the coming sessions.
If the support does break, expect $250-260 on the downside to be met in a quick negative reaction.
However, if the market is able to hold the support and the resistance is taken out, ease your short positions and consider going long as the cryptocurrency may try for base formation.
Follow the price action closely and trade on extremes by placing strict stop-losses to minimize the risk.