Earlier today we published a technical analysis piece detailing the upward sloping channel through which the bitcoin price was travelling. We highlighted the fact that – from resistance around 248 – we may see a temporary correction, and that this correction would likely halt at the support offered up by the aforementioned channel. Today's action has validated this analysis, and – with the correction over – we've now returned to the upside bias on the intraday level.
So what are the levels to keep an eye on to the upside as we head into the US afternoon session and beyond? Take another look at the 15 minute chart with the updated analysis below.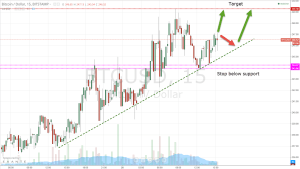 As the chart shows, the bitcoin price hit aforementioned support between 243 and 244, and has since risen by about three or four dollars to trade just  ahead of 247 flat. This action suggests that the channel will hold over the coming few hours, and validate 249.30 (daily highs) as the next upside target.
One thing to consider is that we may encounter some resistance around the current level (just shy of 248 flat) as we did earlier on today. If we do, expect a small correction towards the upward sloping channel, but don't expect price to fall too far below 246 flat before a resumption of the overarching uptrend.
As ever, with illiquidity comes volatility, and any unexpected fundamental announcements could initiate a sharp reversal of the technical bullish bias. In order to ensure that you don't get caught out on the wrong side of downside move, ensure you have appropriate risk management precautions in place. A stop loss either below the channel trendline (around 245 – 246) for the more risk averse, or below support at 243 – 244 for those willing to take on a little more risk, will ensure a timely exit in the event of a reversal.
Charts courtesy of Trading View