We aren't even midway through the week and already the bitcoin price has broken through the $12,000 mark and, at least for the near term, looks set to hold above that level. Things overnight moved relatively slowly initially but once the just mentioned major threshold was taken out, things really started to pick up and we're currently trading in around 12,670, meaning 13,000 isn't an unrealistic target on an intraday basis – especially on the slightly wider time frames.
We are looking at things from a little bit of narrower perspective right now, however, so let's try and get some levels in place that we can use to push forward into the session today. As ever, take a quick look at the chart below before we get started so as to get an idea where things stand and where we are looking to jump in and out of the markets according to the rules of our intraday strategy. The chart is a one-minute candlestick chart and it has our key range overlaid in green.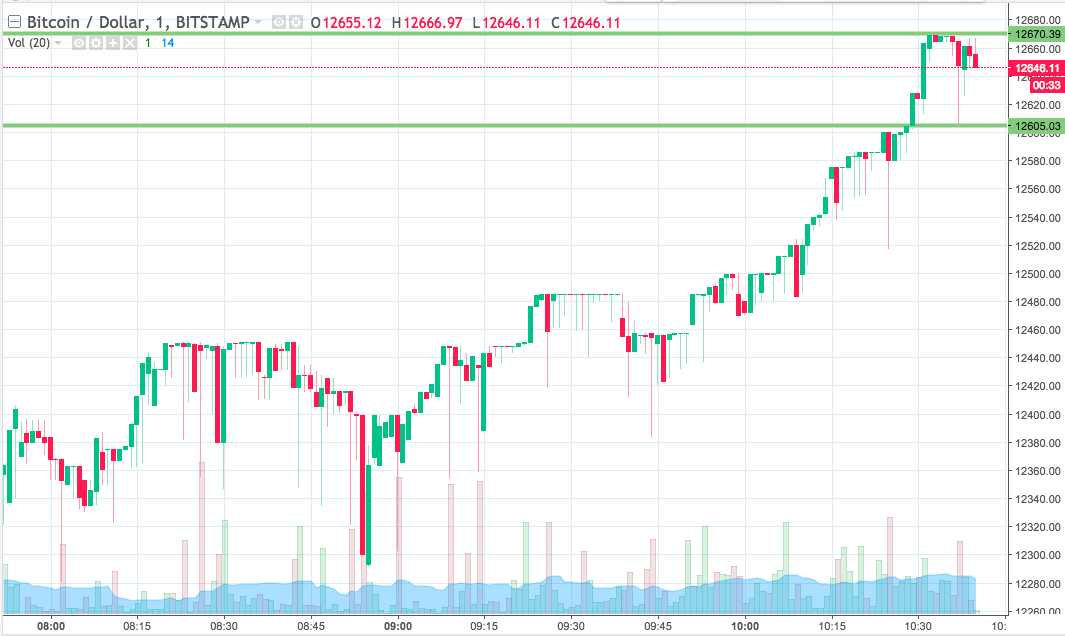 As the bitcoin price chart shows, then, the range we are using for the session this morning comes in as defined by support to the downside at 12605 and resistance to the upside at 12670.
The latter of these two levels is the above-mentioned resistance level and so we will address that one first (since we are trading so close to it as things stand).
So, if we see price close above resistance, we will enter long towards an immediate upside target of 12735. A stop loss on the position somewhere around 12650 should ensure we keep things tight from a risk management perspective.
Looking the other way, if price closes below support, we will enter into a short position towards an immediate downside target of 12555. A stop loss on this one at 12620 should do the job.
Let's see how things play out.
Chart courtesy of Trading View