Sometimes when we put forward our strategies for the overnight session we get exactly what we were looking for from the bitcoin price. Not always (in fact, not that regularly) but when it happens it's a great thing. Last night was one of those nights.
Price broke through the $4,000 level that we had pitched in yesterday evening's analysis as being a key psychological level of resistance and, on the break, ran up swiftly to knock out a couple more key resistance levels.
As we kick off the session this morning, we're trading in and around the $4,250 mark and it looks as though we're in for a relatively strong session today. Price is consolidating a little bit and looks like we are going to get a breakout at some point over the next couple of hours. If we do, $4,500 becomes a valid target on the wider timeframes. We're not going to use it today (as our timeframes are a little narrower than those which would afford us a couple-hundred-dollar target) but we may bring it into play this evening if things run solidly this afternoon.
So, let's get some levels in place that we can use to go at price for the session today. As ever, take a quick look at the chart below to get an idea where things stand and where we are looking to jump in and out of the markets as and when things move.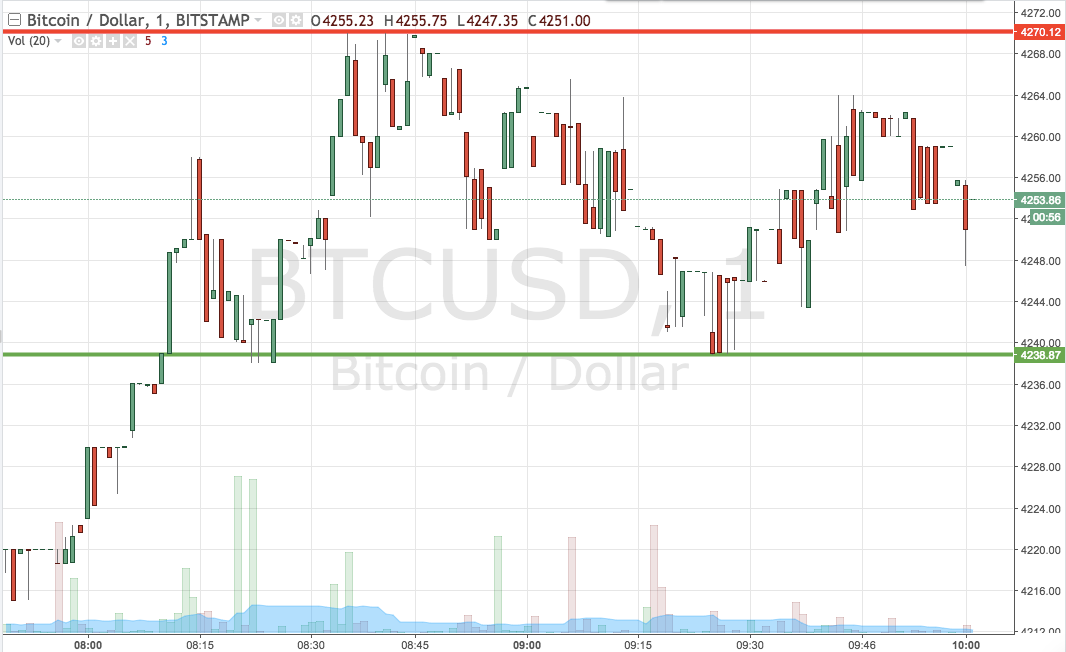 As the chart shows, the range we are using today is defined by support to the downside at 4238 and resistance to the upside at 4270. If we get a close above resistance, we'll jump in long towards 4300. A stop at 4260 makes for a neat risk/reward ratio.
Looking short, a close below support will have us into a downside trade towards 4200 flat. A stop at 4250 looks good.
Charts courtesy of Trading View