First of all, we would like to apologise for delaying this analysis on the very day that demanded it the most. Our chief Bitcoin analyst Samuel Rae has taken a small holiday break, but I'm very sure he is watching the price with the same enthusiasm as we all are.
So on that apologetic yet exciting note, let's see what we have in for today by looking at the chart below: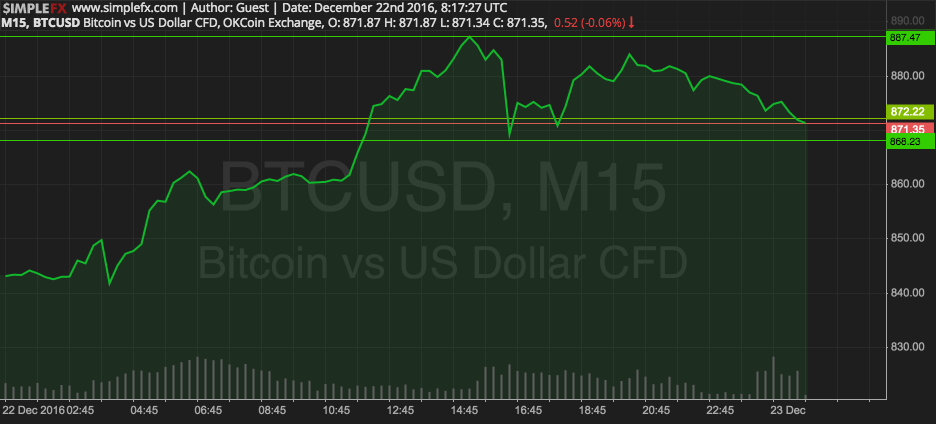 This looks super bullish! Bitcoin price was hovering around the early 800s yesterday, but surged considerably well during the US session — and followed by today's Asian and European sessions. We had set our upside target near 850 and therefore we were able to draw some really great profits from our long position. Not to mention, long term holdings still make sense in this times of upside volatility — but again, we were playing too safe with our hot wallets. (Yes there is a cold wallet for our 'hodler' personality).
So all well that ends well! We now have a good holiday profit at hand. Let's look at how we can make more from current price session.
So, as the chart shows, we are currently looking at support to the downside at 868 fiat, and resistance to the upside at 887 fiat. Its not a tight range, and we have enough reasons to go after intrarange — entering long towards the resistance from support line, and short towards the support from resistance line — while keeping our options open for breakout near-term.
In case the bitcoin price hints more volatility and another rally, we will wait for it to close above 887, a movement which clearly brings the next upside target in sight — the mighty 900 fiat. A stop on the trade at 884 looks good.
Looking the other way, if bitcoin price closes below support, we will get in short towards 845 flat. A stop on this one at 840 works well. A support on the trade at 871 fiat looks good.
PS: Yes I miss Samuel too!
Charts courtesy of SimpleFX