So that's another day complete in our bitcoin price trading efforts and with it the week has drawn to a close. There has been much to talk about across the sessions this week and we've had plenty of opportunities to jump in and out of the markets according to the rules of our intraday strategy as price has moved in various directions.
We've got the remainder of the US session ahead of us, during which we'd love to pocket another couple of wins to close out the week on a strong high. Whether the markets will allow this remains to be seen, of course – we can't just jump in and out because we want to, we have to wait for some signals – but if action today is anything to go by, there's a good chance we'll get at least one opportunity to enter.
So, with this noted, and for the final time this week, here's a look at what we are going for in the bitcoin price this evening with some key levels to focus on going forward. As ever, take a quick look at the chart below before we get started so as to get an idea what's on and where things stand right now.
It's a one-minute candlestick chart and it's got our key range overlaid in green.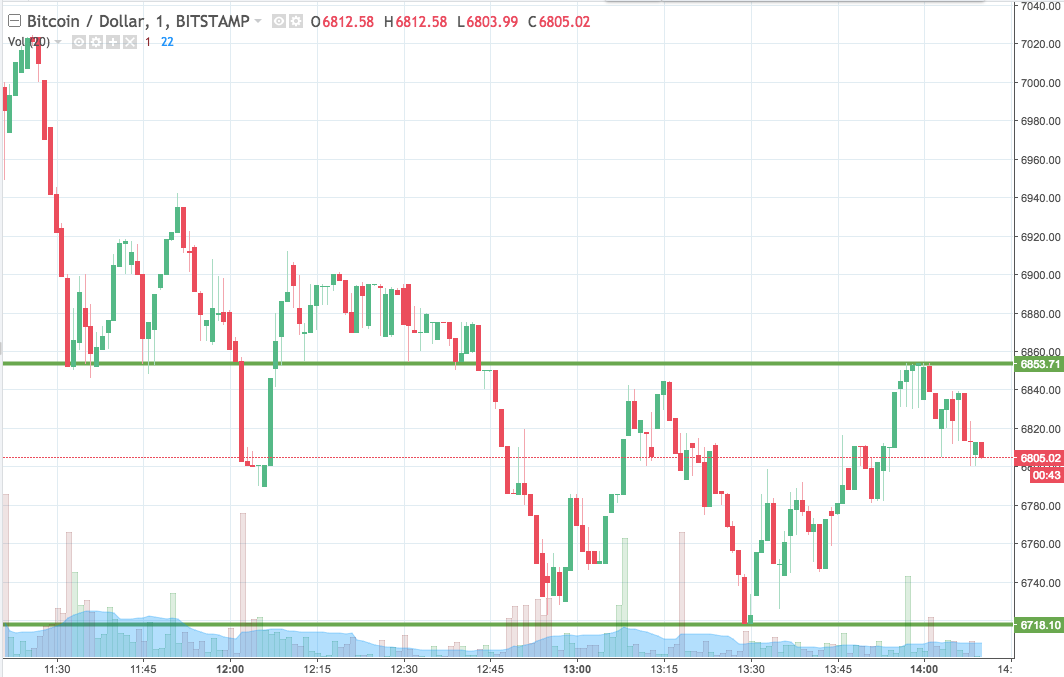 As the chart shows, the range we are looking at for the session today is defined by support to the downside at 6718 and resistance to the upside at 6853. We are initially going to look for a close above resistance to validate an upside entry towards a target of 6890. Looking the other way, a close below support will have us in short towards 6680.
Stop losses on both positions just the other side of the entry in both instances will ensure we are taken out of the trade in the event of a bias reversal.
Let's see how things play out.
Charts courtesy of Trading View