We are closing in on the end of the week and it's time to take the second of our twice-daily looks at the bitcoin price in an attempt to figure out how action today can be fed into a strategy that we can use to draw a profit from the market as we head into the weekend and beyond.
As we noted this morning, the bulls are very much in control of the market right now the overarching corrective action that we saw at the end of last week is now pretty much negated. Price is hovering in and around all-time highs and this has translated to some strong inflow of speculative volume mid-session. There is a chance, therefore, that we are going to see the current action continue into the close of the US session this evening.
However, if this doesn't happen, we might have to enter short on a corrective entry and so we'll make sure that our strategy incorporates some levels with which we can do just that.
So, as ever, take a quick look at the chart below before we get started so as to get an idea where things stand right now. It is a one-minute candlestick chart and it has our key range overlaid in green.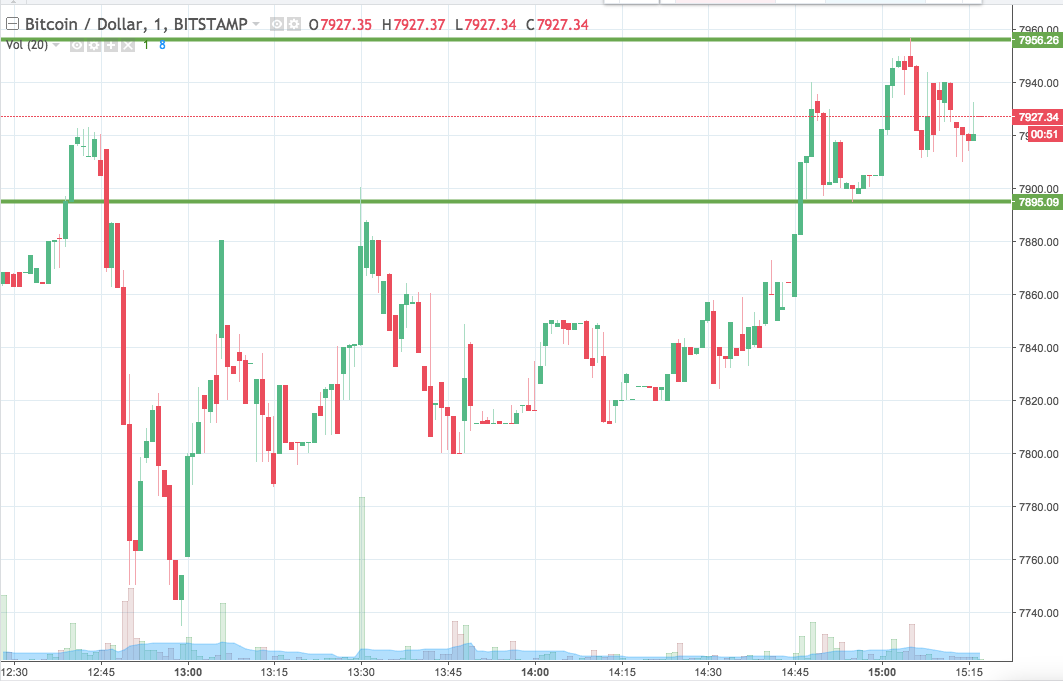 As the chart shows, the range we are using for the session this evening (and, beyond, into the weekend) comes in as defined by support to the downside at 7895 and resistance to the upside at 7956.
We are going to look for a close above resistance to validate an immediate upside entry towards a target of 8000. A stop loss on the trade at 7930 will ensure we are taken out of the position if things turn against us.
Looking the other way, if we see a close below support, we'll jump in short towards 7850 to the downside.
Charts courtesy of Trading View