So that's another day of trading complete in our bitcoin price trading efforts and there's really only one word for what's happened in the bitcoin price (and, indeed, across pretty much the entire crypto spectrum) – bloodbath. We'd love to be saying that we're heading into the festive period on a high and, in turn, that there's plenty to be excited about moving forward into the new year. One of these things is true. The latter one. The first, not so much.
Anyway, there will be plenty of people complaining today so let's not add to the list – instead, lets' try to take advantage of the action we are seeing with some nimble intraday trades.
So, then, as ever, before we get started, take a quick look at the chart below to get an idea where things stand. It's a one-minute candlestick chart and it's got our primary range overlaid in green.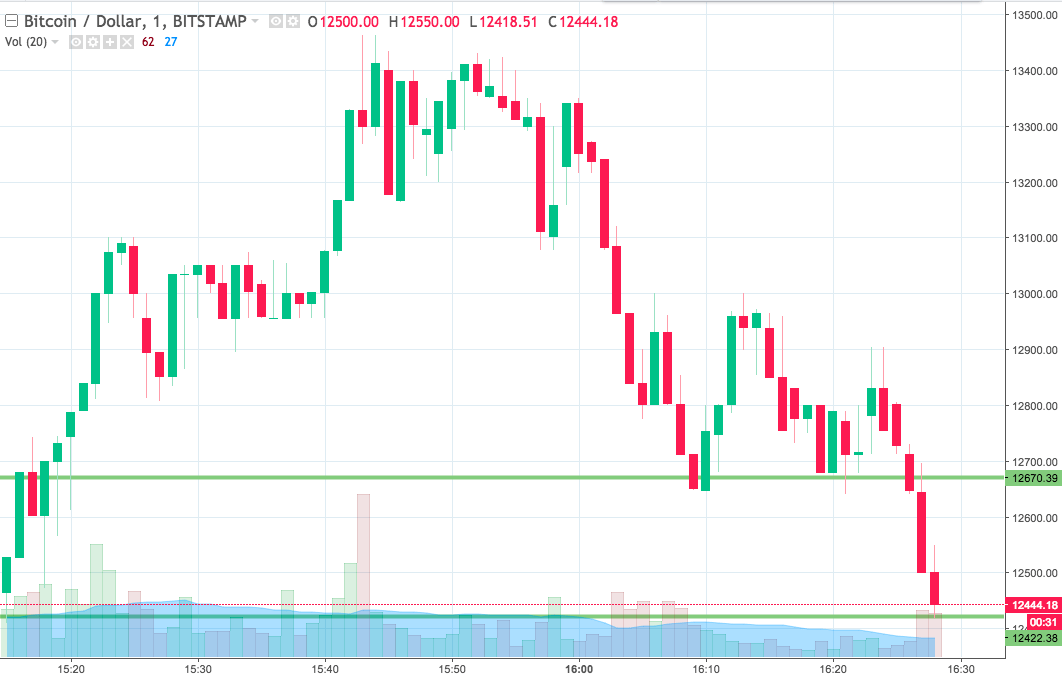 As the chart shows, then, the range we are going to be using for the session today comes in as defined by support to the downside at 12422 and resistance to the upside at 12670.
We are going to stick with our standard breakout strategy (that is, in and out on breaks and subsequent closes above and below key levels) so our two target trades for this evening are as follows:
We'll be in long towards an immediate upside target of 12800 if we see price close above resistance. A stop on the trade somewhere in the region of 12630 will ensure we get taken out of the position in the event of a bias reversal.
We will try and get in short on a close below support, targeting 12350 to the downside and placing a stop at 12440 to keep things tight from a risk management perspective.
See you on the other side.
Charts courtesy of Trading View