OK, here we go. A fresh morning's trading out of Europe, and plenty to go at given overnight action in the bitcoin price. In yesterday evening's analysis, we noted that price had remained relatively flat throughout the majority of the European session on Monday, and that we might see a bit of volatility in the evening as the US session picked and – beyond that – we headed into the Asian overnight.
Well, as expected, we did get a bit of movement, and it meant a couple of things. First, we were able to get in and out of the markets on a breakout position, and draw a quick profit from the market. We also got chopped out of a small intrarange position, but nothing too big, and drawdown was minimal on the aggregate.
Second, we've got some pretty solid levels to go at today. The swing entries give us some nice resistance and support parameters, to the upside and the downside respectively, and with any luck we will see a break of one of these levels today and be able to ride out the break on some momentum.
So, with that said, and moving forward in to this morning's session, let's take a look at what we're going for, and where we are looking to get in and out of the markets today according to our intraday strategy. As ever, take a look at the chart below to get an idea of what's on.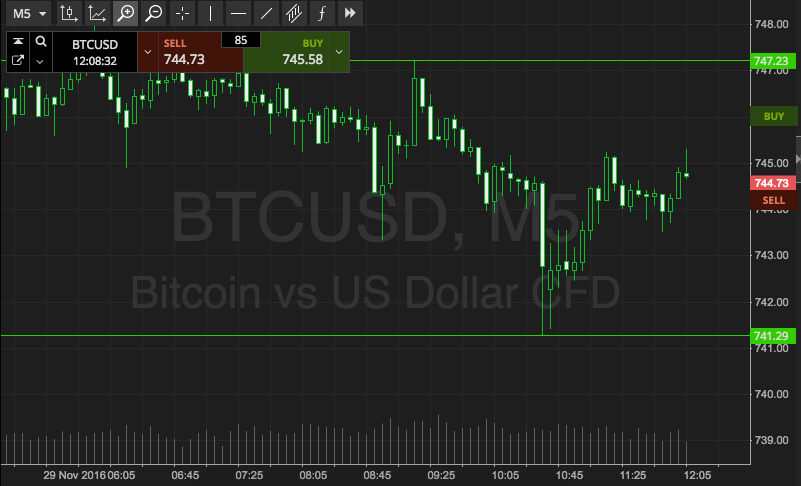 As the chart shows, the range for today's session is defined by in term support to the downside at 741, and in term resistance to the upside at 747.
We're going to focus on our break strategy for the time being.
If we see price break through resistance to the upside, we'll look to get in long towards an immediate upside target of 754. Conversely, a close below support puts us short towards 735. A stop on both position just the other side of the entry defines risk.
Charts courtesy of SimpleFX