It's almost becoming monotonous at the early start of the European session to cover a dip in the bitcoin price but, over the last few weeks, that's all we've been able to do. Things keep falling and anytime we do see something of a reprieve, the markets tank almost right away.
The thing is, whatever CNBC is saying, this market can't fall too much further. There's too much speculative activity ready to pull the trigger at low levels for things to continue depreciating and, once we see price turnaround (and we will, you just have to stick with it), this speculative volume should start to pile into the markets.
That's the theory, at least.
We'll have to wait and see if things play out that way. The key thing is not to panic sell, however.
Panic selling compounds the downside action and just drags the downwards spiral down further.
Anyway, let's get to today's key levels and see if we can put together a strategy that we can use for the session going forward. As ever, take a quick look at the chart below before we get started. It's a one-minute candlestick chart and it's got our primary range overlaid of green.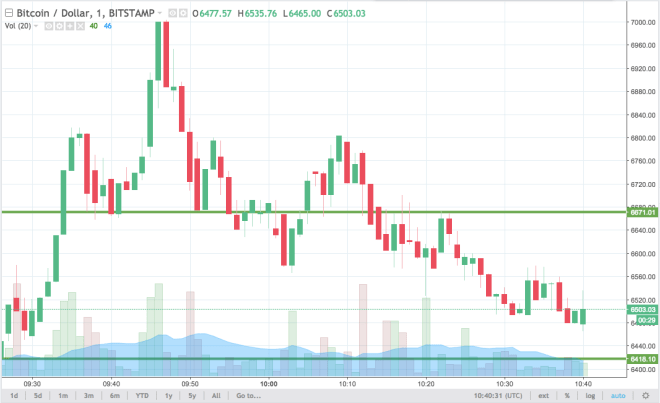 So, as the chart shows, the range that we are looking at for the session today comes in as defined by support to the downside at 6418 and resistance to the upside at 6671. We're going to try and get in long if we see prices close above resistance and we'll target 7000 to the upside.
Conversely, if we see price close below support, we'll get in short towards an immediate downside target of 6200.
That's the levels in place, let's see how things play out and we will revisit at the close of the session this evening.
Happy trading!
Charts courtesy of Trading View