So the European session has now come to an end in the bitcoin price, and it's time to publish our take on what action throughout today's session suggests about what we are looking at for tonight's session. It has been a pretty interesting 24 hours, with action overnight kicking off the beginnings of what turned out to be a pretty large, sustained upside move – and in doing so – giving us a couple of nice opportunities to get in to the upside and draw a breakout profit from the market.
Action throughout the afternoon, however, remained pretty flat, and we're still trading pretty much within the range we highlighted this morning – with some slight alterations.
So, as we head into a fresh session out of Asia this evening, here's what we are looking to trade in the bitcoin price. As ever, the chart below highlights the framework around which we are going to base tonight's positions.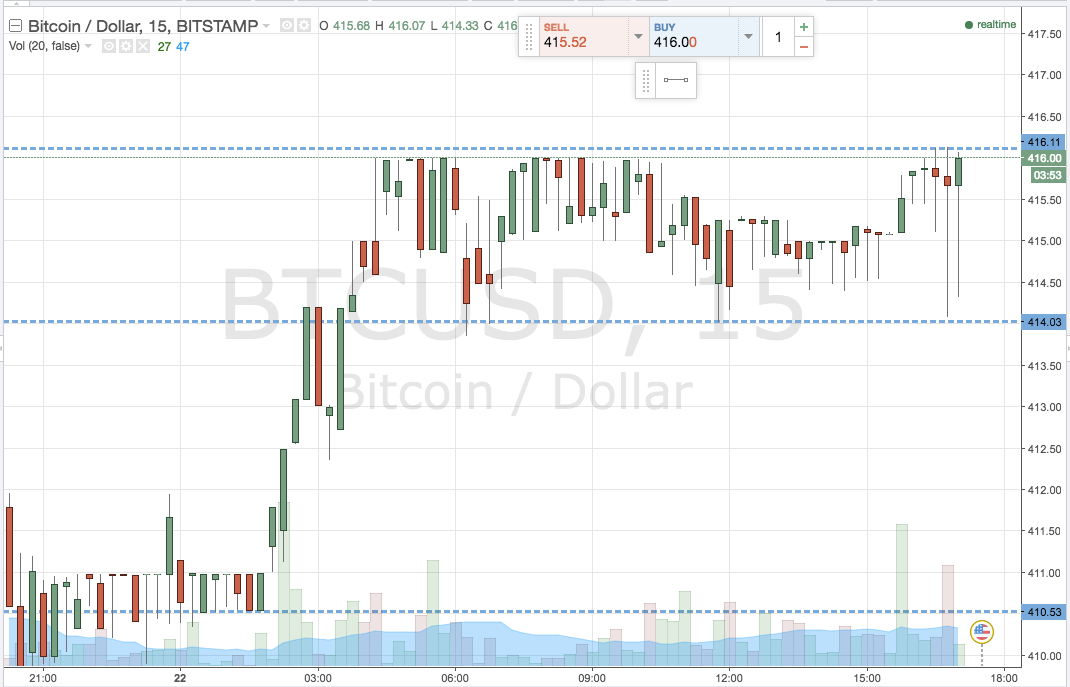 As the chart shows, we are now looking at in term support at 414 flat to the downside, and in term resistance at 416 flat to the upside. Just as with this morning's session, it's a relatively tight range (action today has forced into keeping things tight), so we are going to be looking at breakout only – i.e. no intrarange trading for the immediate future.
A close above in term resistance is our long entry signal, so if we see this in tonight's action it will put us in a bullish position towards an initial upside target of 421.  A stop at 414 flat (at or around support) keeps things secure on the risk management side of things.
Looking the other way, a break and close below support signals short towards 410 flat, with a stop loss just the other side of our entry (somewhere around 415.5) defining our risk.
Charts courtesy of Trading View