So that's another day complete in our efforts to track the bitcoin price and it's one that we won't forget anytime soon. Things really started to move shortly after we published our first analysis this morning and – throughout pretty much the whole day – we've been subject to sustained momentum and some really great breakout opportunities. The hope is that, as the session matures into the late evening session tonight and beyond into the European session tomorrow morning, we can see a continuation of the volatility we've been seeing of late and – in turn – a continuation of the wave of profitable entries we've seen come our way.
So, let's not waste any time this evening going on about how things played out today – let's get straight to the key levels and see if we can continue to pull dollars out of the market as and when things move.
As ever, before we get started, take a quick look at the chart below so as to get an idea where things stand. It's a one-minute candlestick chart and it's got our key range overlaid in green.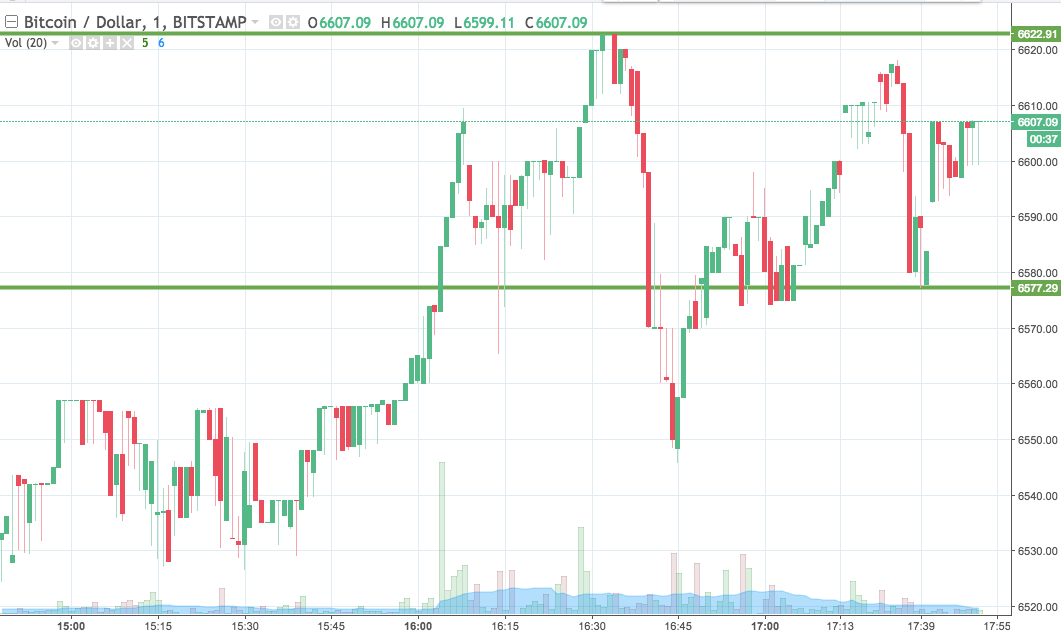 As the chart shows, then, the range we are using for the session this evening is relatively tight (as compares to some of our other intraday ranges) and comes in as defined by support to the downside at 6577 and resistance to the upside at 6622.
We are going to go at things with our standard breakout strategy only, so we'll jump in long on a close above support towards an upside target of 6650. A stop on this one somewhere around 6615 looks good.
Looking the other way, if we get a close below resistance, we'll jump in short towards a downside target of 6530.
A stop on this second trade at 6588 works to define risk nicely.
Let's see how things play out.
Charts courtesy of Trading View