Come on bitcoin, you can do it. Things are very very gradually starting to pick up in the bitcoin space right now. Having suffered a series of substantial downside runs over the last 72 hours or so, we headed into this morning's session out of Europe with one key aim – to see bitcoin form a near-term bottom and to kick off something of a correction.
Take a look at the chart below.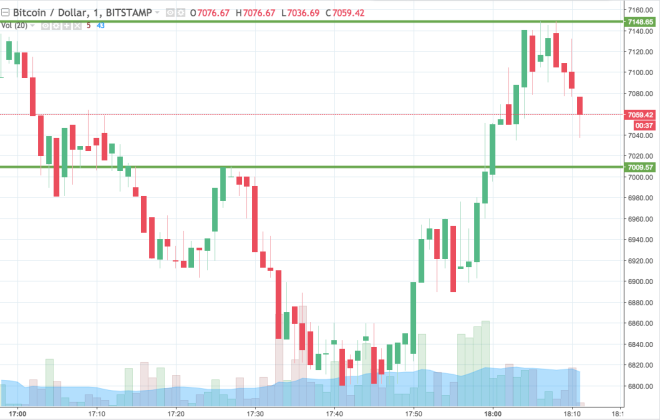 The chart shows how price dipped into the early evening period but has since staged a substantial bounce (there are buyers at these levels, after all!) and things currently trade at a little over $7,000 a piece. That's still down considerably on the levels we were looking at at the start of January (indeed, just last week) but it's a bounce and a bounce is all it takes to get things turned around long term.
So, with this in mind, let's try and get some levels in place that we can use heading into the session this evening. We've already put the chart above, so take another quick look at it before we get started with tonight's strategy so as to get an idea where things stand and what we're looking at. The chart is a one-minute candlestick chart and it's got our primary range overlaid in green.
As the chart shows, the range that we are looking at for the session this evening comes in as defined by support to the downside at 7009 and resistance to the upside at 7148.
We're going to look out for a close above resistance to validate an upside entry towards a target of 7250. Conversely, if we see price close below support, we'll get in short towards a downside target of 6850.
Let's see what happens.
As ever, happy trading and we'll revisit (and update) in the morning.
Charts courtesy of Trading View