Today's chart is going to look a little strange. Overnight action was pretty volatile, and that has made the chart a little bit distorted. Specifically, price ran up towards the 800 flat mark that we highlighted last night as being one to watch. Once it hit highs just ahead of this level, price reversed sharply, and collapsed within the space of around an hour, to carve out fresh weekly lows at 768. That's a circa 30-dollar dip in the timeframe, and when this sort of thing happens, the subsequent action looks confined to an extremely tight range, when in reality, it's not. It's just a quirk of the chart. The way these brokers express price over time works well 99% of the time, but sometimes it can look a little skew whiff.
Anyway, whatever it looks like, we've actually got a pretty wide range for the session this morning. Take a quick look at the chart to get an idea of what's on, and we'll get in to the detail. It's a five-minute candlestick chart and it's got our range overlaid in green.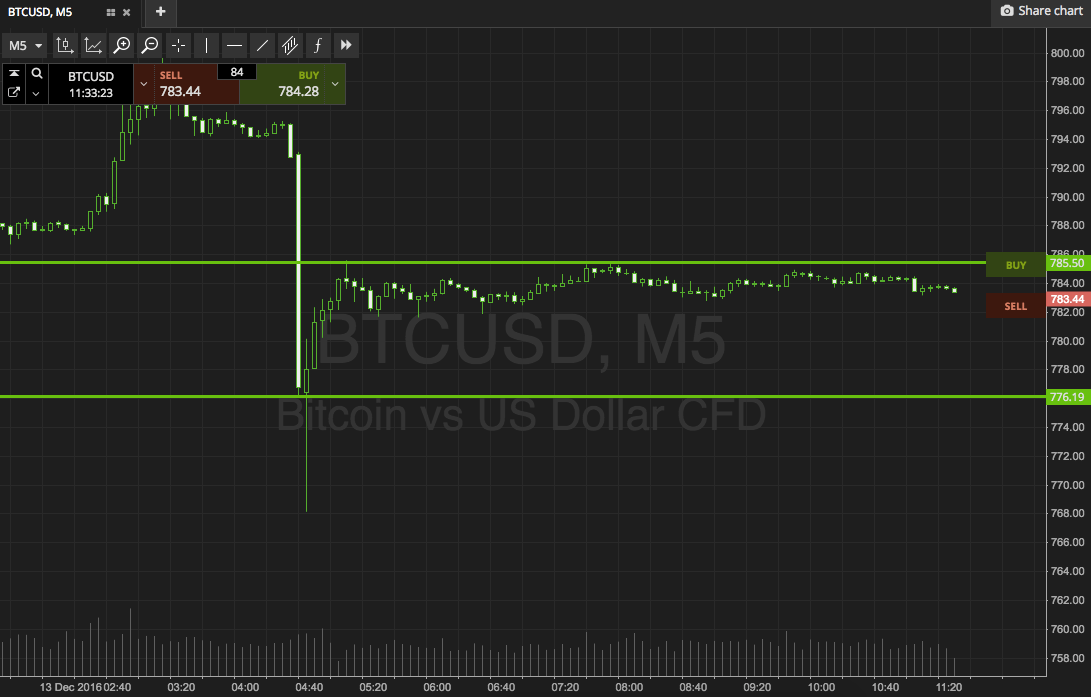 So, as the chart shows, the range in question is defined by in term support to the downside at 776, and resistance to the upside at 785.
We're going to go at price with both an intrarange approach today, and a breakout approach, with a bit of sustained momentum hopefully on the cards for some decent sized profits.
Intrarange, as always, involves getting in long on a bounce from support with a target of resistance, and short on a correction from resistance towards an immediate target of support.
Looking at breakout, if we see price close above resistance, we'll get in long towards an upside target of 795. Stop at 782.
Conversely, a close below support puts us in short towards 770. Stop on this one at 778.
Charts courtesy of SimpleFX