In this morning's bitcoin price watch piece, we looked at the action we had seen overnight in the bitcoin price, and suggested that we might be looking at a sustained move for today's session. The range we outlined was pretty tight, though concurrently wide enough for us to bring both our intrarange and breakout strategies to the table.
Action throughout this morning was pretty tight, until we spiked just now, and this has redefined tonight's parameters. Take a look at the chart to see how.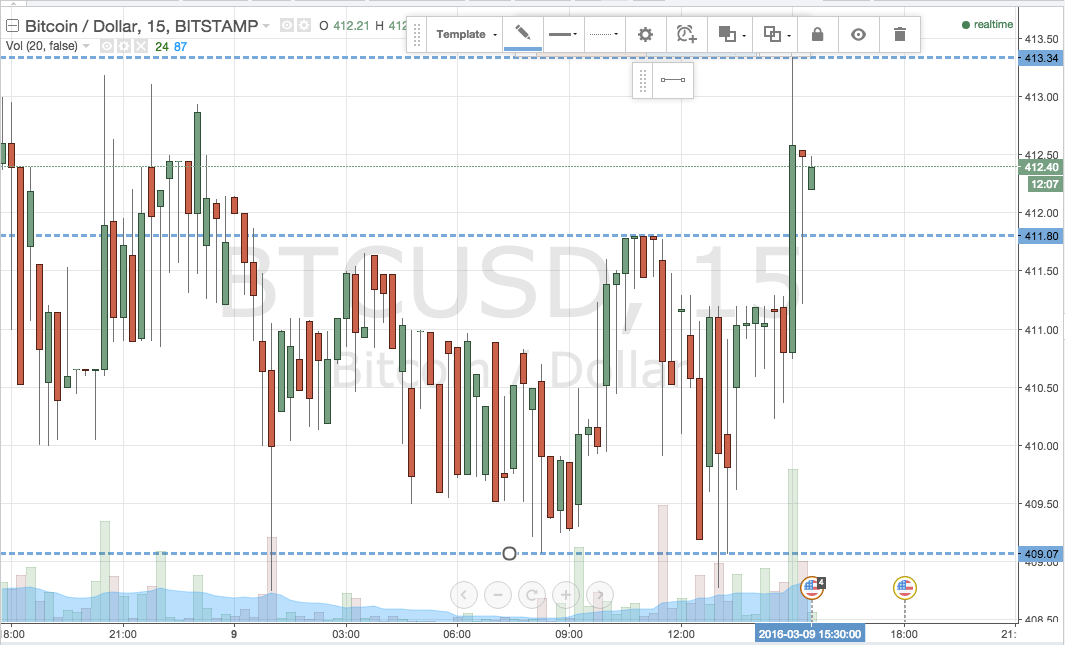 As you can see from the chart, the range we are looking at for this evening's session out of Europe, and as things advance into the US afternoon and beyond, is defined by in term support at 411 and in term resistance at 414. It's a little too tight to play intrarange, as there's not really enough room to offer up a sufficient risk management profile, so we'll be sticking with the breakout approach tonight. Of course, with the recent volatility, things may differ before the Asian session kicks of. With this in mind, if this changes before tomorrow morning, we'll update this article.
So, breakout. As ever, we'll initially be looking for a solid candlestick close on the 15-minute chart as a bullish signal, and one that will put us in a long position towards an initial upside target of 419.  We're being pretty conservative on this one as far as an upside target is concerned, so a stop loss equally as conservative, somewhere in the region of 413.5, looks ideal.
Looking the other way, a close below in term support will signal a bearish entry towards a downside target of 409. Again, this is a pretty conservative target, and a tight stop at 412.5 keeps things attractive on the risk management side of the trade.
Charts courtesy of Trading View