The bitcoin price has had a pretty tough day today and, for those that caught our analysis this morning, the decline has not been unexpected. When we get a strong run up towards fresh highs it's not unusual for the shorter-term operators to pull profits out of the markets and close out positions. This leads to a dip in price which, in turn, leads to more selling action as the more risk-averse holders exchange for fiat in order to cater to risk-off sentiment.
Longer term, this sort of correction is a pretty good thing for bitcoin. It serves to flush out the speculators and clears the way for price to continue appreciating as and when the bulls regain control of the markets.
With this in mind, we are expecting price to bottom out soon and, when it does, we should be set up for some nice upside breakout trades heading into the late US session and, beyond, into the Asian session tomorrow morning.
So, with this noted, let's get some levels in place that we can use to jump in and out of the markets as and when this bottoming out happens and price turns around. As ever, take a quick look at the chart below before we get started so as to get an idea where things stand. It is a one-minute candlestick chart and it has our range overlaid in green.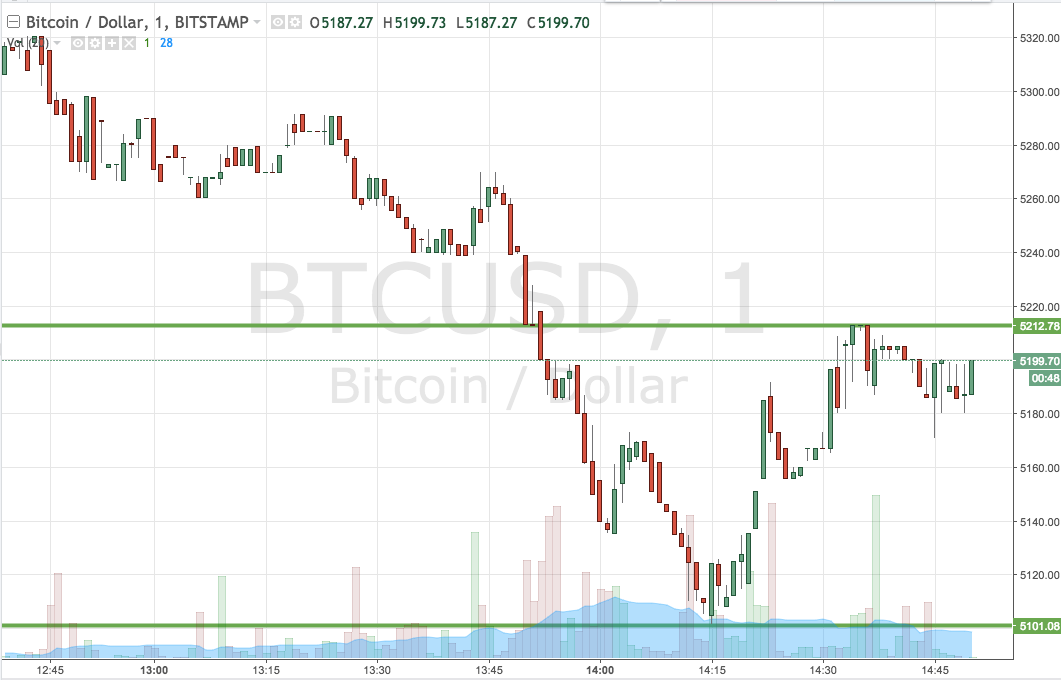 As the chart shows, the range we are using for the session this evening is defined by support to the downside at 5101 and resistance to the outside at 5212.
We are going to stick with our breakout approach right now, so if we see a close above resistance, we will enter long towards a target of 5250.
Conversely, a close below support will have us in short towards 5050.
Let's see how things play out.
Charts courtesy of Trading View