The European session has now drawn to a close in the bitcoin price and we're about to enter the US afternoon period. This crossover generally brings with it a spike in volume that we can use to jump in and out of the markets and draw a profit from any action – so long as we are careful. When markets cross over like this, and we get a spike in volume on the resulting boost in interest, it's easy to get chopped out of positions. This is especially true when the positions aren't super tight from a risk management perspective.
As such, for the session tonight, we're going to keep things very simple and approach the markets with a very tight, breakout scalp-type strategy.
As ever, to get an idea of where things stand in the markets right now (and in turn to get an idea of the levels that we are going to use going into the session tonight) take a look at the chart below. It's a one-minute candlestick chart and it's got our key range overlaid in blue and red (red for resistance, blue for support).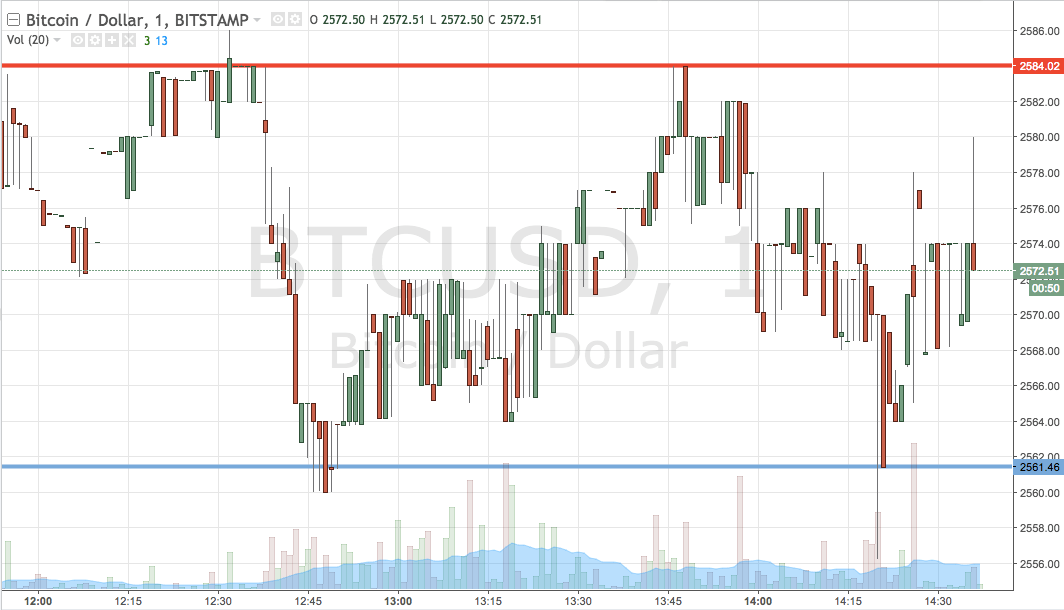 As the chart shows, then, we are looking at the markets through a range defined by support to the downside at 2561 and resistance to the upside at 2584. Tight range, tight targets, tight stops – that's the order of the day.
So, we will initially look for a close above resistance to validate an upside target of 2600 flat. A stop on the trade at 2580 works well. Conversely, a close below support will have us in to a short position, with an initial downside target of 2520. There's a little more room on this one (but it's still tight) so a stop loss at 2570 looks good.
Let's see how things play out.
Charts courtesy of Trading View