European markets have now shut for the day, and it's the turn of US volume to control the bitcoin price. In this morning's analysis, our primary focus was the volatility we had seen across the last seven or eight days, and the opportunity afforded to us by this volatility from a get in and out of the markets perspective. We hoped that the volatility would continue into today's session, and to some extent it did. Unfortunately, however, the way in which the volatility affected price meant we got chopped out of a relatively short term trade for a stop loss hit, and that we are now net flat in the market.
There's plenty of opportunity to pick up a profit going forward, however, so let's take a look at how we expect things to play out this evening. First up, take a quick look at the chart below to get an idea of the levels in focus. The chart is a fifteen-minute candlestick chart showing the last twenty-four hours' worth of action in the bitcoin price.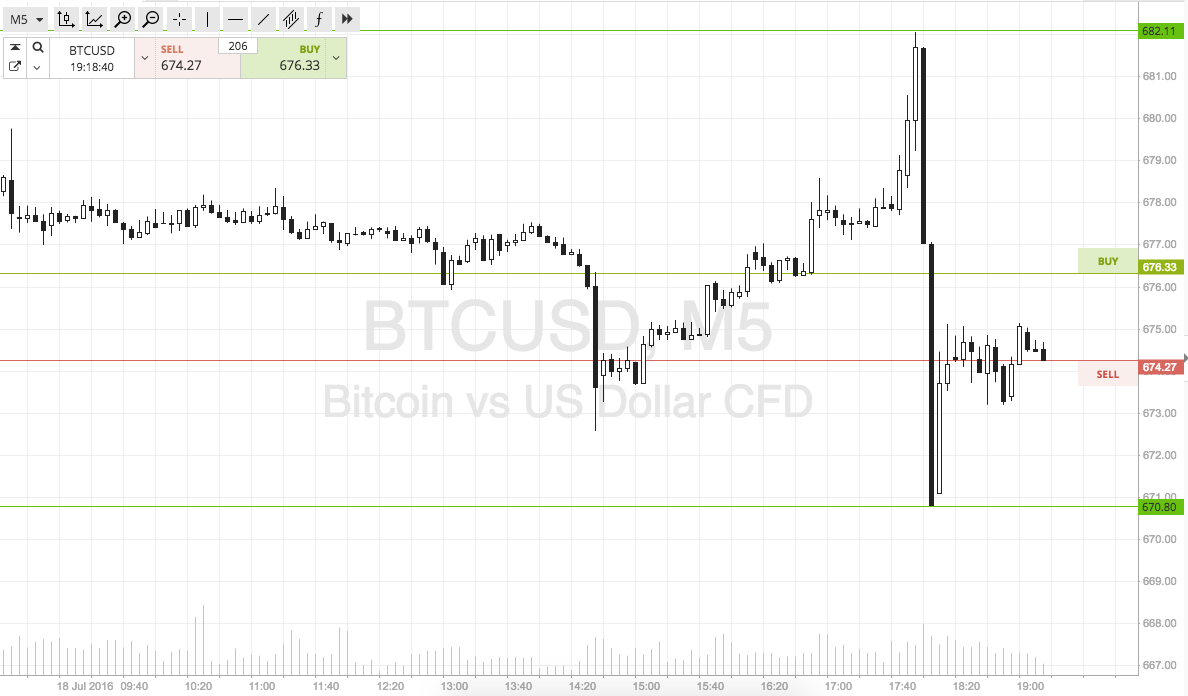 So, as the chart shows, the levels we are focusing in on for this evening are in term support to the downside at 670 flat, and in term resistance to the upside at 682. There's plenty of room for an intrarange approach here, so long on a bounce from support and short on a correction from resistance, targeting the opposing levels.
If price breaks and closes below in term support, we will aim to enter short towards an initial downside target of 660. A stop at 673 will keep our risk tight on the position, and ensure we are taken out of the trade on a bias reversal.
Looking the other way, if price closes above resistance we will go long towards 695. A little more aggressive this one, with a stop at 679 keeping things tight.
Charts courtesy of SimpleFX