It's been a bit of an odd start to the week for the bitcoin price and our intraday strategy. Things seem very subdued, and we haven't really had any major volatility – a couple of false breakouts aside – on which to get into the market. Sideways action between a pretty tight, four or five dollar range has dominated proceedings, and we've been forced to resort to scalp opportunities for our profits.
In yesterday afternoon's analysis, we highlighted exactly that – bringing our range to a very tight five minute candlestick chart and setting up for short term targets and – in turn – profits. For today's session, however, we're going to widen things back out a little. A downward sloping trend line has appeared on the fifteen minute charts, and a break of this trend line may be just what's needed (from a technical perspective) to give us some decent momentum.
So, with this said, here's what we are looking at on today's fifteen minute charts, with an outline of the positions we are targeting if we get any volatility.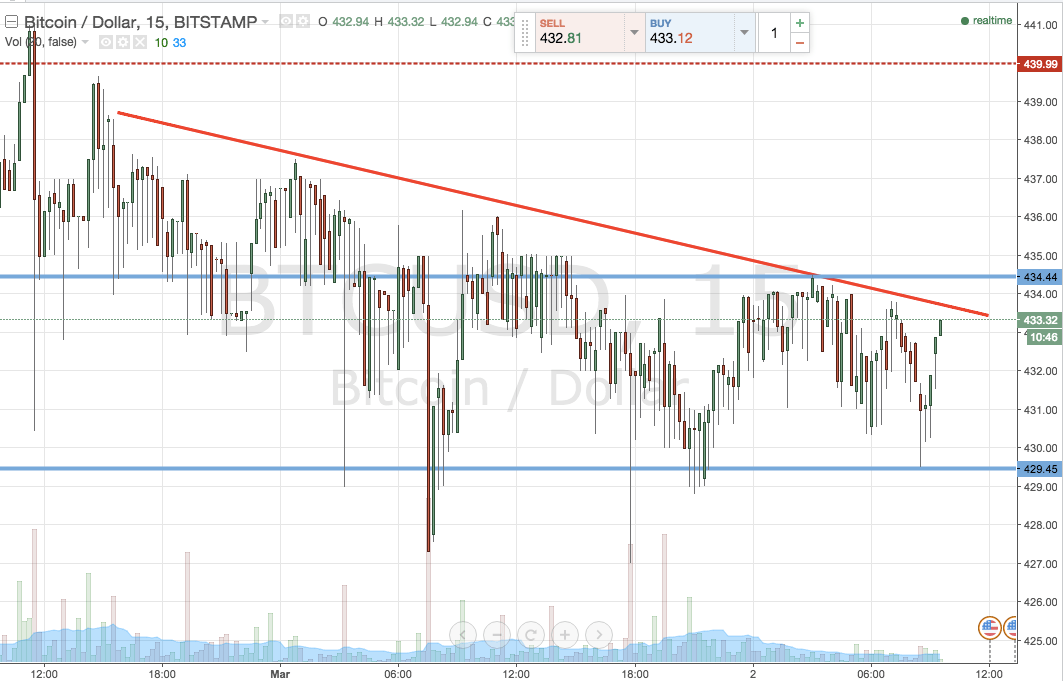 As the chart shows, the range for today's intraday session trading is defined by in term support at 430 flat, and in term resistance at 434.5. It's still a pretty tight range, so for now at least, intrarange trading is off the cards.
From a breakout perspective, usual rules apply – in long on a close above in term resistance (though this time we are looking for the channel (highlighted in red) to signal an entry also), wit ha stop at 433 flat protecting our downside. Target at 440 flat.
Looking south, in short on a break of support, with a target of 425 flat and a stop just shy of 431 dictating our risk on the position. Let's hope we get a return to some volatility today…
Happy Trading!
Charts courtesy of Trading View