We're a little bit late publishing the first of our two intraday bitcoin price analyses today, primarily as a result of the action we saw both overnight and throughout the initial phases of this morning's session. Generally, we like to put our first interpretation of the night's action out sometime around the kick of of the European and UK sessions (i.e. in line with traditional asset market open on those days). Today, however, we got a big move just prior to these openings, and have since traded relatively flat in a sort of consolidatory fashion. As a result, we waited a little bit to see how this consolidation would play out before setting up our framework.
As it turns out, things have set up pretty well for what looks like it might be a decent afternoon's worth of trading I the bitcoin price. The consolidatory, range bound action that we've seen post-big move this morning has defined a nice range for us to focus on, and should set us up nicely to draw a profit from any further volatility – be it a continuation of the current upside momentum or, conversely, a reversal slash correction. In either scenario, the chart below shows the levels we are looking at as things stand.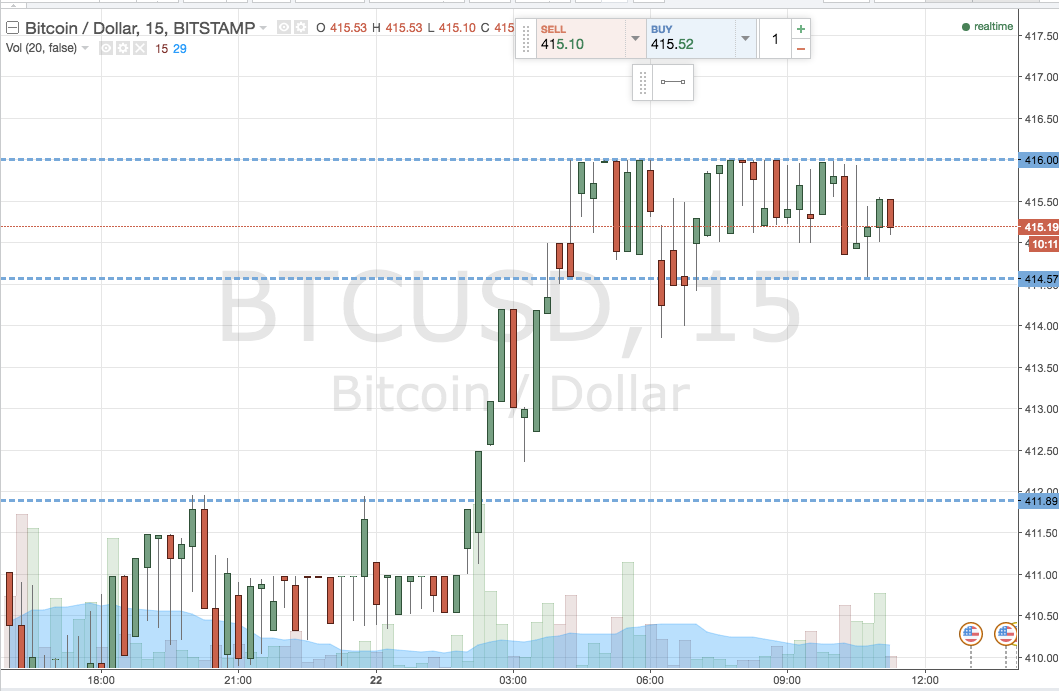 As you can see, we are looking at in term support at 414.57, and in term resistance at 416 flat. It's a pretty tight range, so we'll be sticking with breakout for this part of the session at least.
As usual, a close above in term resistance will signal a short entry towards an initial upside target of 420 flat. Its sort of mid way between conservative and aggressive, and a stop at 414.5 defines a nice risk limit on the position.
Looking short, a close below in term support will signal a bearish entry towards 411 flat. A stop on this one around 416 limits our downside risk.
Charts courtesy of Trading View