We are right at the beginning of a fresh week's worth of trading in the bitcoin price, and it's looking like we might get some interesting action going forward. Volume was pretty low across the weekend, but we still saw some volatility, and were able to get in and out of the markets according to our intraday strategy and draw a profit from the action.
Ahead of this morning's open, the bitcoin price gained to fresh highs just shy of 422 before correcting to close the gap on the gains we saw at the beginning of the weekend. We are currently trading just ahead of this correction.
So, with this in mind, and as we kick off a new week of action, what are the levels we are looking at for today's bitcoin price trading, and which of our strategies are we going to bring to the table if we get any volatility? Take a quick look at the chart below to get an idea what's on. It's a fifteen-minute timeframe candlestick chart illustrating the weekend's action, with today's framework overlaid.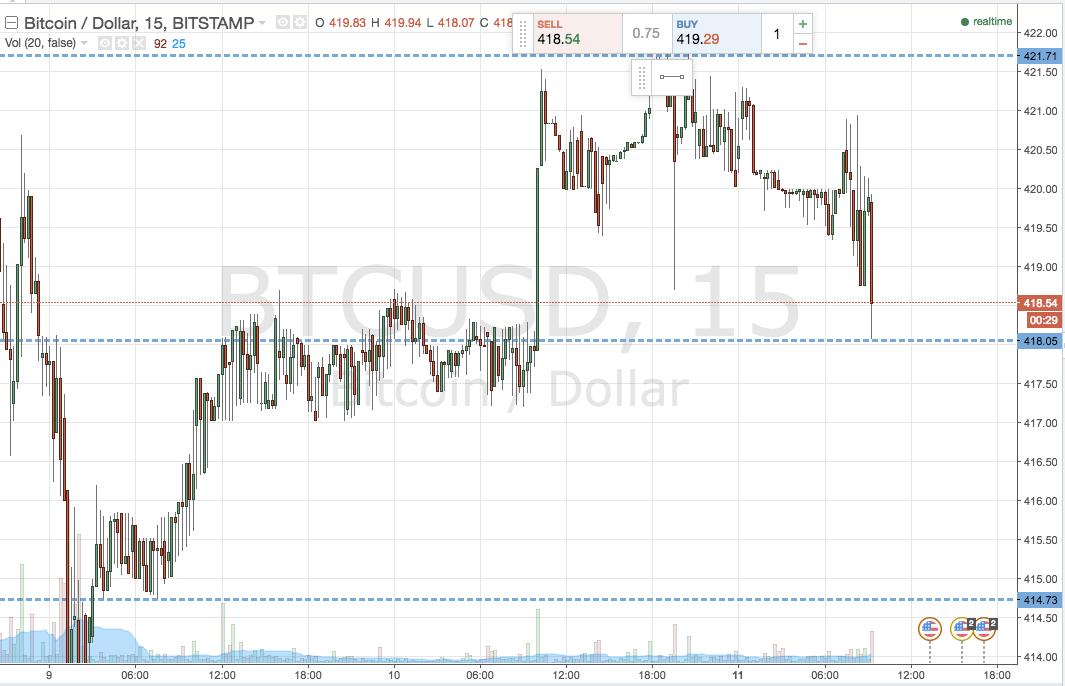 As the chart shows, the two levels we are focusing on for today's session are in term support at 418 flat and in term resistance at 422 – the aforementioned highs. These levels define the day's range. It's a pretty narrow range, so we'll be sticking with our breakout strategy for the morning session.
If the bitcoin price breaks above in term resistance, it will signal a long entry towards an initial upside target of 436 flat. A stop on this position somewhere in the region of 419.5 defines risk on the trade.
Looking to the short side, a close below support will put us in a downside position towards a bearish target of 414 flat, with a stop at 420 to protect our upside.
Charts courtesy of Trading View