A textbook candlestick pattern is showing a very rosy future for Bitcoin SV (BSV).
The fifth-largest cryptocurrency by market cap lately formed a Golden Cross – a bullish signal wherein an asset's short-term moving average closes above its long-term moving average. It achieved the mettle after surging by a parabolic 500 percent – from $77.2 to $458.74 – in just less than a month.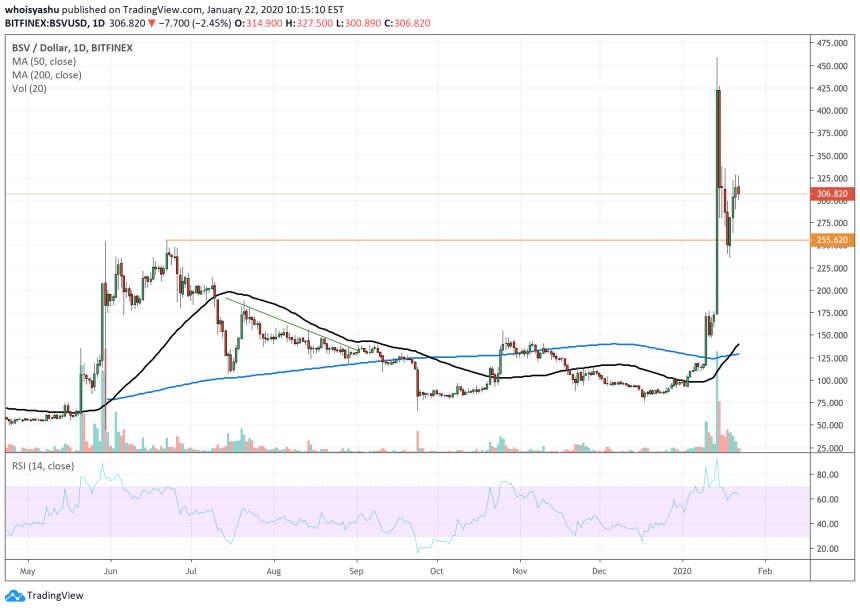 The Tulip Pump
The wild upside move borrowed sentiments from the claims of Bitcoin SV founder, Craig Wright, of having a secret stash of bitcoin worth billions of dollars. The Australian pastor's ownership of the cryptocurrency bag could further prove that he is the original creator of Bitcoin, Satoshi Nakamoto, a claim he has been making for a long time.
Bitcoin SV bulls considered that Mr. Wright would sell part of his alleged bitcoin holdings in exchange for BSV. It would happen had he received a "bonded courier" – the so-called Tulip Trust – containing the private keys of the bitcoin wallet in concern. Barring a rumor, Mr. Wright has not confirmed receiving the details.
No, he doesn't mention the private keys at all. See his blog post: "As I've explained in court proceedings, I believe I will receive information in January 2020 that will enable us to identify coins […] I have not said the private keys to those coins would become available"

— sabroshi (@sabroshi1) January 15, 2020
But that has least bothered the bulls. They continued to pump BSV to a point of upside exhaustion. The move improved the coin's technicals with the formation of a Golden Cross which, if sustained, could provide another bullish push to the investors.
Bitcoin SV Fakeout?
Golden Cross pattern holds a success rate of 60-64 percent, according to a study by ChartReport.com. That said, while the likelihood for an asset to rise in value is higher after forming the said bullish pattern, that is not always the case, nevertheless. Analyst Ian McMillan wrote after a golden cross formation on the Dow Jones:
"If there was a success rate of greater than, say, 80%, maybe we'd be having a different discussion. Maybe. Furthermore, some of the most respected technicians in our industry don't really buy the hype either. It's certainly a fun topic to talk about, but the validity of it being a reliable bullish signal doesn't have a ton of merit."
Nevertheless, speculators in the cryptocurrency market have a tendency to go long on assets that forms a Golden Cross. While that can serve as a bullish sign for Bitcoin SV in the near-term, the cryptocurrency would need to brush aside all the controversies it is in (read Wright vs Kleiman) to establish a sustainable bullish bias.
Until then, fears of a BSV fakeout is likely to remain higher.