The altcoin market is bleeding red and Bitcoin SV (BSV) is its most injured pawn.
The fifth-largest cryptocurrency on Monday slipped by circa 10 percent to establish a new intraday low at $256.66. The move downhill came as a part of a larger bearish correction that started last week when BSV was trading at $382.70.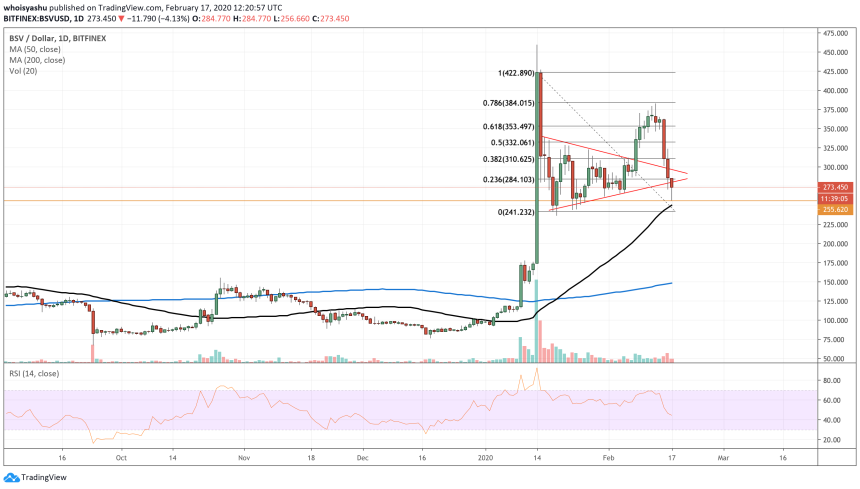 As usual, traders used the said local top for profit-taking – and the price dipped by 33 percent so far into the retracement. But on a larger scale, BSV was trading about 44 percent lower from its all-time high at $458, established in January 2020. That left traders under the impression that the coin could be under the risks of further bearish crackdowns.
Altcoins FUD
Part of the reason why Bitcoin SV slipped overwhelmingly can be laid on the altcoin market bust.
Ethereum, XRP, Bitcoin Cash, Litecoin and more than 5,000 other crypto assets fell in tandem to register a $23.84 billion crash in the last three days. A similar move ensued in the bitcoin-denominated markets. Bitcoin SV, for instance, lost 23.86 percent of its valuation against the top cryptocurrency.
As a result, Bitcoin regained part of its lost dominance over the cryptocurrency market albeit slipping itself by 7.76 percent within the same timeframe. The cryptocurrency's market cap against rival altcoins surged from 61.98 percent on Friday to 65.449 percent on Monday, showing that an otherwise overbought Bitcoin SV was under the risks of facing major plunges.
"Early signs of a bullish reversal on Bitcoin Dominance. Altcoins will be destroyed if this gets back up to 68 – 70% again," said market analyst Elixium.
Took Saturday off to get away from the charts, expecting to see a timeline full of people celebrating more altcoin swings.

Quite the opposite!

This has to be the bloodiest Sunday of 2020.

— Luke Martin (@VentureCoinist) February 16, 2020
Bitcoin SV Network Congestion
Technicals aside, other catalysts also played an influential role in driving BSV prices down.
Earlier last week, for instance, the number of unconfirmed transactions on Bitcoin SV blockchain spiked dramatically, leading to its network's mempool rising by 400 times. In retrospect, miners were unable to pick up transactions owing to unfound network errors that ended up straining the Bitcoin SV blockchain.
The mempool spike followed a grave issue faced two weeks ago by the Bitcoin SV miners. So it appears, the blockchain was struggling to differentiate between its own nodes and the ones that belonged to its forked cousin Bitcoin Cash. The error ended up linking many of BSV nodes to that of Bitcoin Cash.
Train wreck: BSV nodes connect to BCH nodes. pic.twitter.com/N1bTVtpr3t

— Ben Verret⚡ (@verretor) February 8, 2020
Low trading volumes and thin order books also make BSV prone to crashing further. According to Simon Peters, a research analyst at eToro, the cryptocurrency's 300 percent upside move in January looks unsustainable against poor trade metrics. Therefore, it could be due to a deep plunge.
As of now, Bitcoin SV is targeting $241 as its next downside target.