Bitcoin has been seeing some rocky price action throughout the past couple of days.
There has been an err of caution amongst investors in recent days, with Bitcoin's position around $10,000 suggesting that its price action in the coming few days and weeks will be pivotal for understanding where it will trend in the days, weeks, and months ahead.
Earlier today, bears did try to break the support that sits at $10,000, and they were almost successful. After pushing BTC as low as $9,900, the cryptocurrency's price saw a massive spike that sent it surging up towards $10,200.
It is currently trading just below these highs but is showing some signs of stability.
One analyst is noting that this latest decline sent Bitcoin down towards its multi-year trendline that was broken several weeks ago. He believes that a test of this level could spark further upside in the near-term.
Bitcoin Maintains Above $10,000 as Analysts Watch for Continued Stability 
At the time of writing, Bitcoin is trading down just over 1% at its current price of $10,115. This is around the price at which the crypto has been trading throughout the past couple of days.
Earlier this morning, BTC's price plunged to lows of $9,900 before bulls stepped up and catalyzed a sharp upswing.
This upswing led it to highs of $10,200, at which point its momentum slowed and it began consolidating.
One trader is still expecting Bitcoin to see a move down towards its CME gap at $9,700 in the near-term, although he notes that this may be what allows it to continue its mid-term uptrend.
"I can see something like this happening for BTC. Oddly enough, though it is a meme, I think taking out the CME gap would give a little bit of buyer inspiration and add to the narrative," he explained while pointing to the below chart.
Image Courtesy of Cantering Clark. Chart via TradingView.
This Key Trendline Test Could Help Propel BTC Higher
Another analyst observed that Bitcoin is currently trading just a hair above the descending multi-year trendline that was first broken when the cryptocurrency rallied past $10,000 in July.
He believes a test of this trendline could spark an explosive move higher.
"BTC gives long-term breakout retest and yall think bull market ended. Watch what's going to happen now," he said.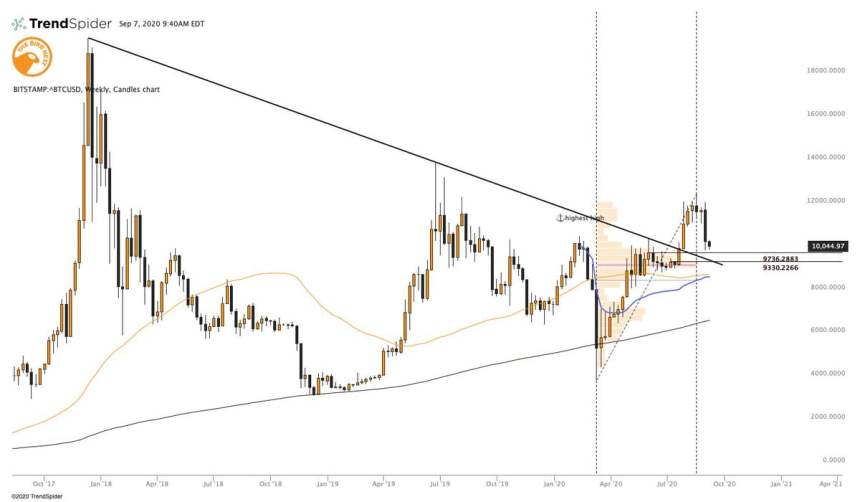 Image Courtesy of CryptoBirb.
How the market trends in the coming few days should provide significant insights into its mid-term outlook, and it may all depend on its reaction to $10,000.
Featured image from Unsplash.
Charts from TradingView.