Today is the day everyone in crypto has been waiting for: popular Bitcoin exchange Coinbase has been publicly listed on the stock market for the first time ever.
The entire industry is buzzing, still euphoric from the months of nothing but green candles. However, the euphoria could be blinding market participants to the fact that the dollar could potentially be ready to reverse.
Crypto Market Celebrates Coinbase Listing Day With New Bitcoin All-Time Highs
"The line separating investment and speculation, which is never bright and clear, becomes blurred still further when most market participants have recently enjoyed triumphs," Buffett wrote in a shareholder letter from 2000. "Nothing sedates rationality like large doses of effortless money."
Effortless money has been the theme of crypto over the last year, during a time when money is hard to come by for so many suffering from the impact of the pandemic.
Related Reading | Coinbase Listing Sends Binance Coin (BNB), Exchange Tokens Soaring
The crypto market Fear and Greed Index is at full-blown greed, which other Buffett quotes point out are a time to be fearful. But investors aren't fearful at all.
They're rolling the dice on altcoins, throwing millions at NFTs, and more with little concern about putting money away for the future – what Bitcoin was supposed to be about in the first place.
All this exuberance has put blinders on most crypto investors who are unaware of a potential reversal brewing in the dollar that could over the next several days catch them off guard.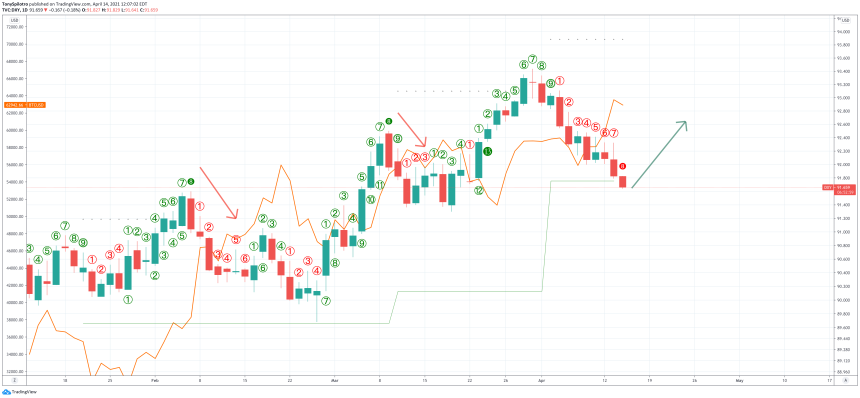 The TD 9 indicator has perfected a sell setup on an 8-count | Source: DXY on TradingView.com
How Exuberance Has Left Investors Blind To Potential Dollar Reversal
The Dollar Currency Index, a weighted basked of top currencies trading against the dollar, is now higher than lows set earlier in the year, but it's been dropping to retest former resistance turned support.
Related Reading | The Bearish Bitcoin Chart Bulls Definitely Don't Want To See
On the way down, the DXY has perfected a sell setup on the TD Sequential indicator. The indicator is at only an 8 count instead of the typically lethal 9, however, as signals on the other end have shown a perfected 8 works just fine.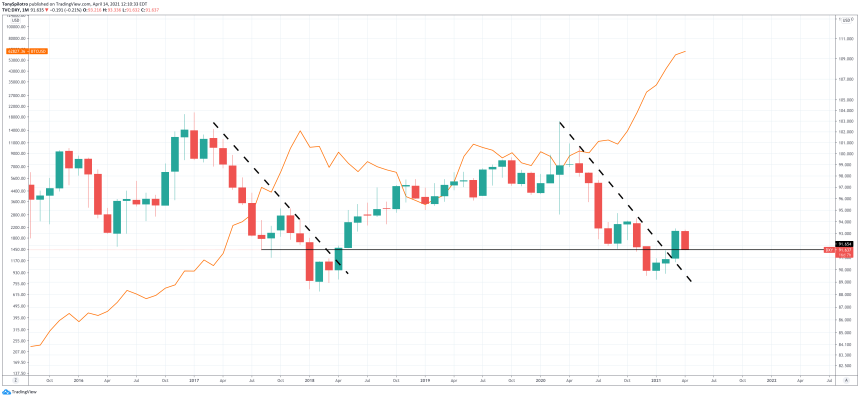 Major dollar reversals have ended Bitcoin bull markets | Source: BTCUSD on TradingView.com
Looking at the bigger picture, Bitcoin bull markets have ended when the dollar finally turns around, and after this retest of support, another leg up could be devastating to the crypto space.
What's worse, is that investors are too exuberant currently to ever see it coming. Institutions are here, Coinbase has went public, and the stock-to-flow model predicts $100,000 BTC or more – what could possibly go wrong?
Featured image from Deposit Photos, Charts from TradingView.com