Bitcoin is inching closer and closer to the coveted $30,000 region, with this long being a target looked upon by investors
Because this level has psychological significance, there's a strong possibility that it will hold as resistance and may be a difficult hurdle for bulls to overcome
There is a strong possibility that a clean break above this level could open the gates for the benchmark cryptocurrency to see a continuation of its parabolic uptrend
One trader is now noting that BTC could be on the cusp of posting a strong break above this level
He notes that its technical strength comes from the recent break above $29,200, which is now holding strong as a support level
Bitcoin and the entire cryptocurrency market have seen mixed price action over the past few days and weeks.
The selling pressure seen over the past couple of days has all been absorbed by bulls, with bears being unable to gain any major footing within the market.
Where the entire space trends in the near-term should depend largely on whether or not bulls can shatter the resistance that sits around $30,000.
A firm break above this level would contribute to the cryptocurrency's parabolic momentum and potentially allow for a massive upswing.
Bitcoin Gains Momentum as Selling Pressure Evaporates 
It does appear that Bitcoin is facing a so-called "sell-side liquidity crisis," as each selloff is almost instantly absorbed.
This has allowed the crypto's price to gain a strong foothold above $29,000, with it currently trading up just over 1% at $29,400.
It has yet to test $30,000, but it does appear that bulls are vying for a break above this level in the near-term.
Trader Claims Recent Push Past $29,200 Likely to Lead to $30k Breakout 
One prominent trader explained last night that $29,200 is a crucial level for the entire cryptocurrency market. The break above this level is likely to provide BTC with further upwards momentum in the days ahead.
He is specifically watching for a breakout above $30,000 next.
"BTC: Bitcoin ranging here into the New Year. Watching levels on 4 hr – $29,100s to $28,300s We've seen Bitcoin get bought up several times now – with a break above $29,200 – IMO cold have the legs to push to $30k+."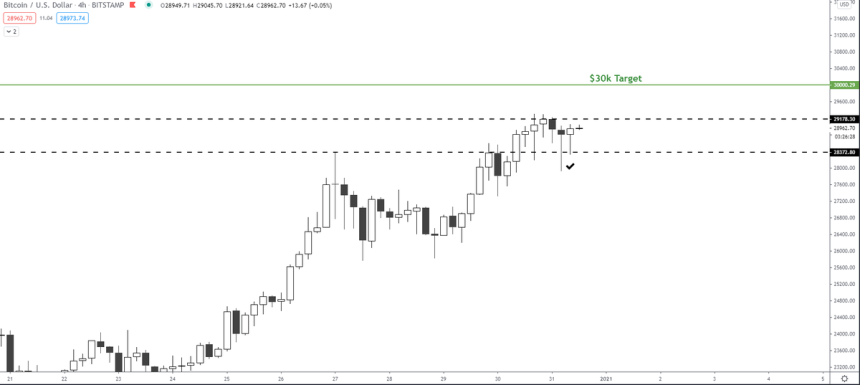 Image Courtesy of Josh Rager. Source: BTCUSD on TradingView.
Whether or not Bitcoin can break above $30,000 in the mid-term should shed some light on where it will trend in the weeks to come.
Featured image from Unsplash.
Charts from TradingView.