Bitcoin movements in the 2022 bear market have almost completely deviated from the established bear trends in the market. The digital asset which had never fallen below a previous cycle peak had finally done it when it fell to $17,600 following the June crash. Since then, the cryptocurrency has had a hard time maintaining its price above the previous cycle peak and has now spent a number of weeks nursing this current level.
Bitcoin Enters Consolidation Levels
Bitcoin has been consolidating around the 2017 peak levels for the last month. It continues to struggle against the tide in this regard but not even the various recorded accumulation trends have been enough to drag it out of this rut. Since its fall to the $17,000 level, there has not been much in the way of recovery for the digital asset.
Related Reading | Ethereum Price Falls Below Critical Level, Will It Hold $1,000?
As a result, the major resistance points have been pushed further back, putting even more pressure on the price. The sell-offs continue to dominate given the low prices, and the demand across the big investors has continued to wane. The support that had been built up at $20,000 had been destroyed. As such, short traders have been able to take control of the price.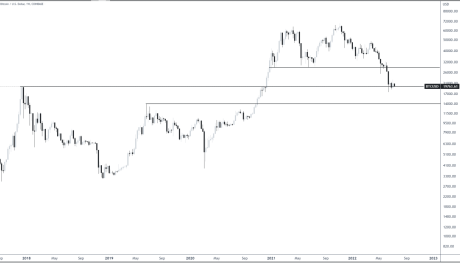 BTC consolidates at 2017 peak | Source: Arcane Research
It is important to note, however, that consolidation levels such as these can often precede large surges in price. This has been seen in various points in the past, even before the massive bull runs of 2021. However, if there is no significant move on the part of long-term investors, an immediate breakout of the consolidation level remains hard.
Best Case Scenario
Presently, there is no good argument for bitcoin going into another bull rally. The best case scenario remains that the digital asset is able to build up formidable support to fend off the bears. It's either that or risk being dragged down to $14,000 where there is stricter support. This is because $14,000 is the peak cycle for 2019 and since the possibility of breaking through two different peak levels remains slim, there is a chance to hold this point.
BTC price falls to $19,700 | Source: BTCUSD on TradingView.com
It should not be discarded that bitcoin is also seeing support in the $17,000 territory. This was where it found support, and eventually a lift-off point, during the June crash. This was also the point at which there was a relief rally back in early 2018, in the early days of the bear market. So there remains the possibility of holding steady at this level.
Related Reading | Bears Refuse To Budge As Bitcoin Struggles To Reclaim $20,000
There is still a chance for the digital asset to see higher prices. As seen last week, bitcoin had been able to beat the $22,000 resistance, albeit briefly. A break above this could see the cryptocurrency try to rally towards $28,000, which happens to be strong resistance for the asset.
While a $28,000 mark is a nice short-term level to hit for investors, it should be kept in mind that there is still significant resistance at $25,000. This point which had served as support when the price had previously fallen below $30,000 now remains a bit hindrance towards another upward rally.
Featured image from Marca, charts from Arcane Research and TradingView.com
Follow Best Owie on Twitter for market insights, updates, and the occasional funny tweet…