Bitcoin moved substantially higher on Thursday after consolidating in a tight range for many days. The cryptocurrency rallied from approximately $10,600 to daily highs just a smidge shy of $10,000. The rally represented one of the cryptocurrency's largest moves higher in many weeks.
Bitcoin currently trades at $10,900 as of this article's writing as bulls attempt to retake the $11,000 resistance level. $11,000 is an important level for Bitcoin as it has acted as a point at which multiple rallies have stopped since the start of September.
Despite the resistance that BTC faces, Peter Brandt, a long-time investor, is not worried. He recently said on Twitter that Bitcoin is on the verge of printing a "big buy signal."
Bitcoin Could Flash a Large Buy Signal: Peter Brandt
Bitcoin has found itself in a tight consolidation between $10,000 and $11,000 over the past few weeks. The cryptocurrency has barely deviated from these levels over this time period.
The coin may be primed to move even higher, though, according to Peter Brandt. Brandt is a futures and foreign exchange trader that has been working in the business since 1975. He has developed a name for himself in the cryptocurrency space, becoming one of the first notable traditional finance investors to dive into Bitcoin and crypto-assets.
He shared the chart below on October 8th, writing that Bitcoin is primed to form a "big buy signal" on its daily and weekly charts. The chart is somewhat vague in that there is no target or granular analysis, but it does show that BTC is currently trading above the upper bound of a macro pennant pattern. Should the coin hold that level, it is in a bullish state.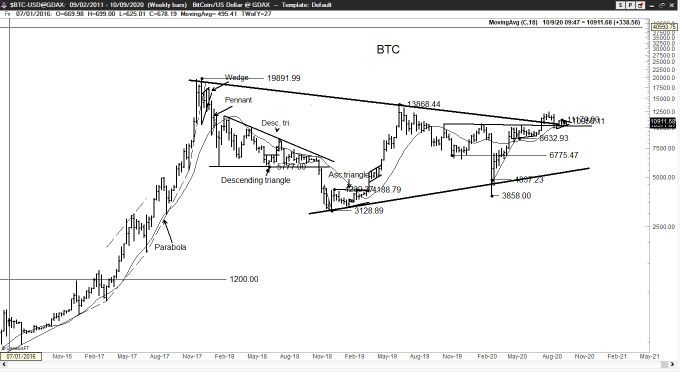 Chart of BTC's macro price action with analysis by Peter Brandt (@Peterlbrandt on Twitter).
Fundamentals For This Space Still Positive
The fundamentals of the crypto market are extremely positive despite uncertainties about price action in the near term, analysts have said.
Brandt himself mentioned that Square buying $50 million worth of the leading cryptocurrency is a "major development." Many in the industry are optimistic that Square's move to adopt BTC as an investable asset for its treasury will entice other companies to do so, driving up the price of Bitcoin and the adoption of this nascent technology.
Featured Image from Shutterstock
Price tags: xbtusd, btcusd, btcusdt
Charts from TradingView.com
Multi-Decade Trader Thinks Bitcoin Is About to Flash a "Big Buy" Signal