Bitcoin faced a strong drop into Friday. The cryptocurrency, after peaking at $40,000, fell as low as $34,000 in a flash drop on Friday morning.
The drop was odd because the cryptocurrency was strongly underperforming altcoins. Normally, during Bitcoin corrections, altcoins fall against the U.S. dollar and against BTC, though this was not the case.
Bitcoin has since bounced back toward $36,500 since the daily lows.
An analyst is expecting some form of consolidation in the days ahead, which may result in strength in the altcoin market.
Bitcoin Could Enter Consolidation, Analyst Predicts
One crypto-asset analyst recently suggested that Bitcoin has a good likelihood of consolidating in the short term, which could end up resulting in an altcoin rally.
He shared the chart below on Friday, showing Bitcoin's potential outlook ahead of the weekend. The chart shows that BTC is currently rubbing up against a key support level and against a number of key moving averages. This formation led him to suggest that the cryptocurrency will end up consolidating throughout the weekend.
As the trader explained:
"Here's the possible outcome short term (12-24h) for #Bitcoin. 1) Consolidates while $ETH / $BTC is strong, 2) $ETH / $USDT takes the lead, 3) Slay altcoins over the weekend, 4) Pay yourself by Sunday 6pm, 5) Let Monday unfold."
When Bitcoin consolidates in a bullish manner, it is argued that that is a prime time for altcoins to break out.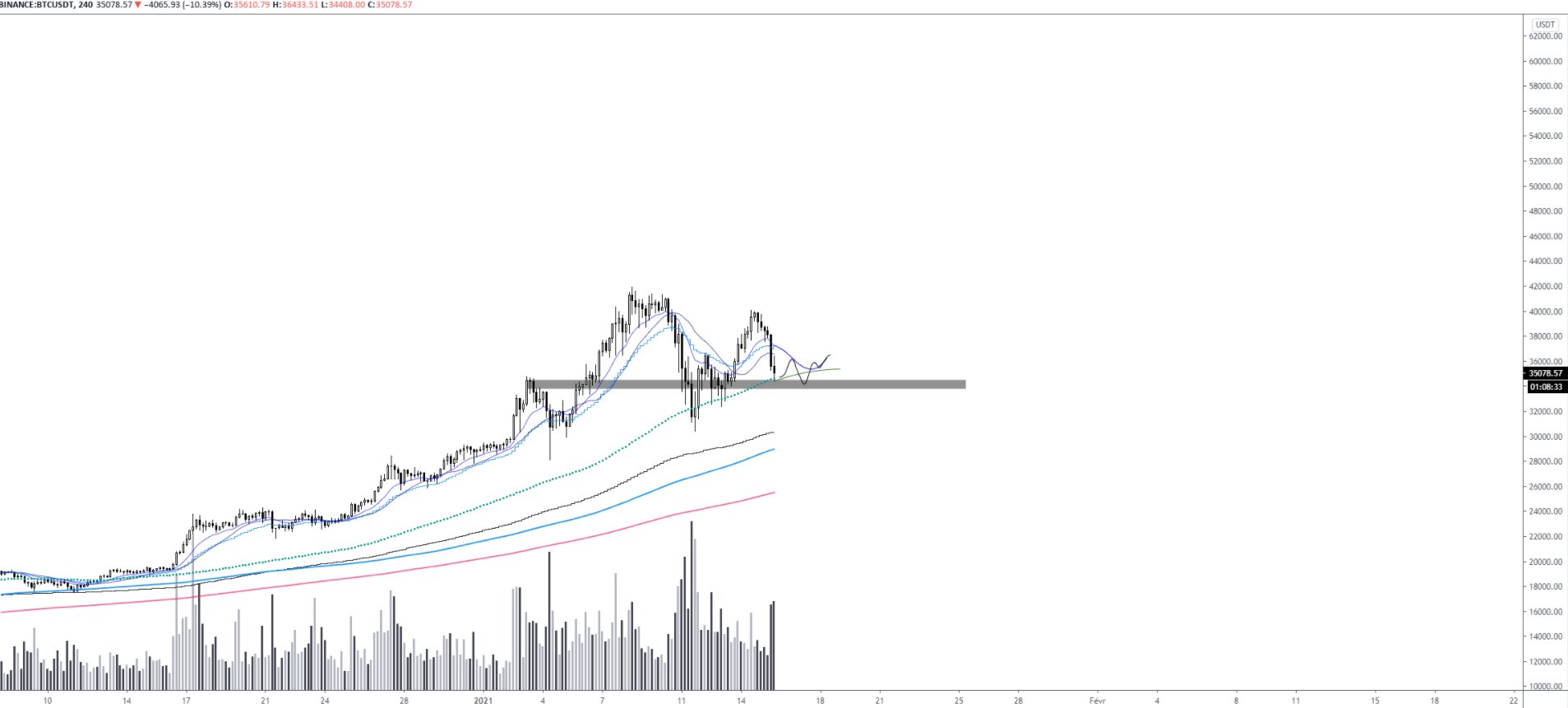 Chart of BTC's price action over the past few weeks with an analysis by crypto trader and chartiist Pierre (@Pierre_Crypt0 on Twitter).
Source: BTCUSD from TradingView.com
Altcoin Rally Begins
What the analyst predicted appears to be playing out in real time.
As of this article's writing, leading altcoins are starting to break higher in a serious fashion, largely leaving Bitcoin in the dust. The BTC dominance metric has dropped from 67.5% to 66.5% over the past day, which is notable in a market worth over $1 trillion.
Altcoins such as Curve DAO Token (CRV), Aave (AAVE), Chainlink (LINK), and many more are surging higher as Bitcoin enters some form of consolidation.
This trend is likely to continue as long as BTC respects key support levels in the near term.
Featured Image from Unsplash
Chart from TradingView.com
Price Tags: BTCUSD, XBTUSD, BTCUSDT, ETHUSD, ETHBTC, ETHUSDT
Why This Analyst Expects Bitcoin Price Consolidation After the Recent 15% Drop