It's no doubt that it IOTA has been on a rough patch with sellers pushing prices lower. However, after that close above $4.2, just buy IOTA. Yes, and while at it aim for $5.5.
Of course, after last week's higher high, retracements and break outs, I was hoping LTC to spice up after waking up from a 2 week slumber but it didn't.
Instead we are seeing a series of lower lows and that is okay since any reversal from $255 is a retest which is pretty inviting for buyers.
Let's have a look at other alt coin charts
AS NEM BUY PRESSURE STUTTER FOCUS SHIFT BACK TO $1.35
Prices are pretty good and for NEM buyers, there is no reason to complain.
Judging from last week-which by the way ended up bullish against my expectation, looking for buying opportunities is after all a profitable activity and that is what we should be gearing at this coming week.
At the moment though, we there is that conspicuous 3-bar double reversal pattern, an evening star pattern right at the second Fibonacci extension line at $1.76.
I'm of the opinion that this level is a good trigger line for bulls especially if there is convincing dip and reversal leading to close about this obvious resistance line.
Like last week, my potential and ideal buy zone is at $1.35 as we look to trade that break out on January 3.
DASH IS YET TO CLOSE ABOVE $1300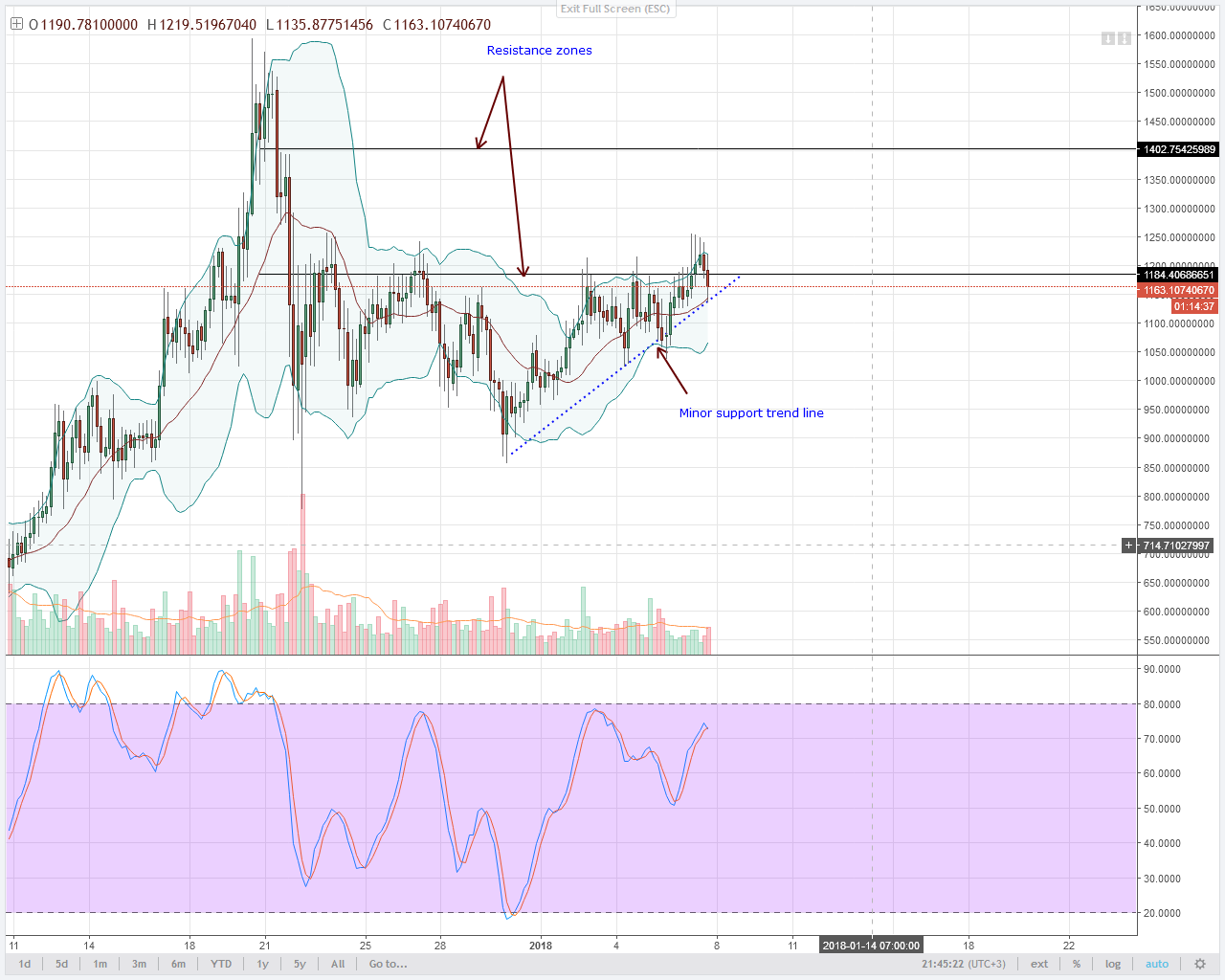 We can go on and on about the effect of $1300 and how liquidation of DASH arises every time price action tests that level.
On January 6th, all talk was about the need of DASH buyers to push above $1300-CONVINCINGLY! I'm not seeing nothing of the sort to warrant a break out trade which if it does happen-bearing in mind the long consolidation, the blast would be "loud" and clear!
From my perspective, the minor support trend line is proving important in the short term and any break below means we have to wait for entries from key Fibonacci retracement levels.
BUY IOTA
For the first time in more than 12 days, IOTA buyers are trending above $4.2!
This qualifies to be a break out trade and as such, we should be looking for enter this trade.
Of course, any retest of $4.2 is another buying opportunity.
CLOSE ABOVE $430 INVITES MONERO BUYERS AIMING FOR $500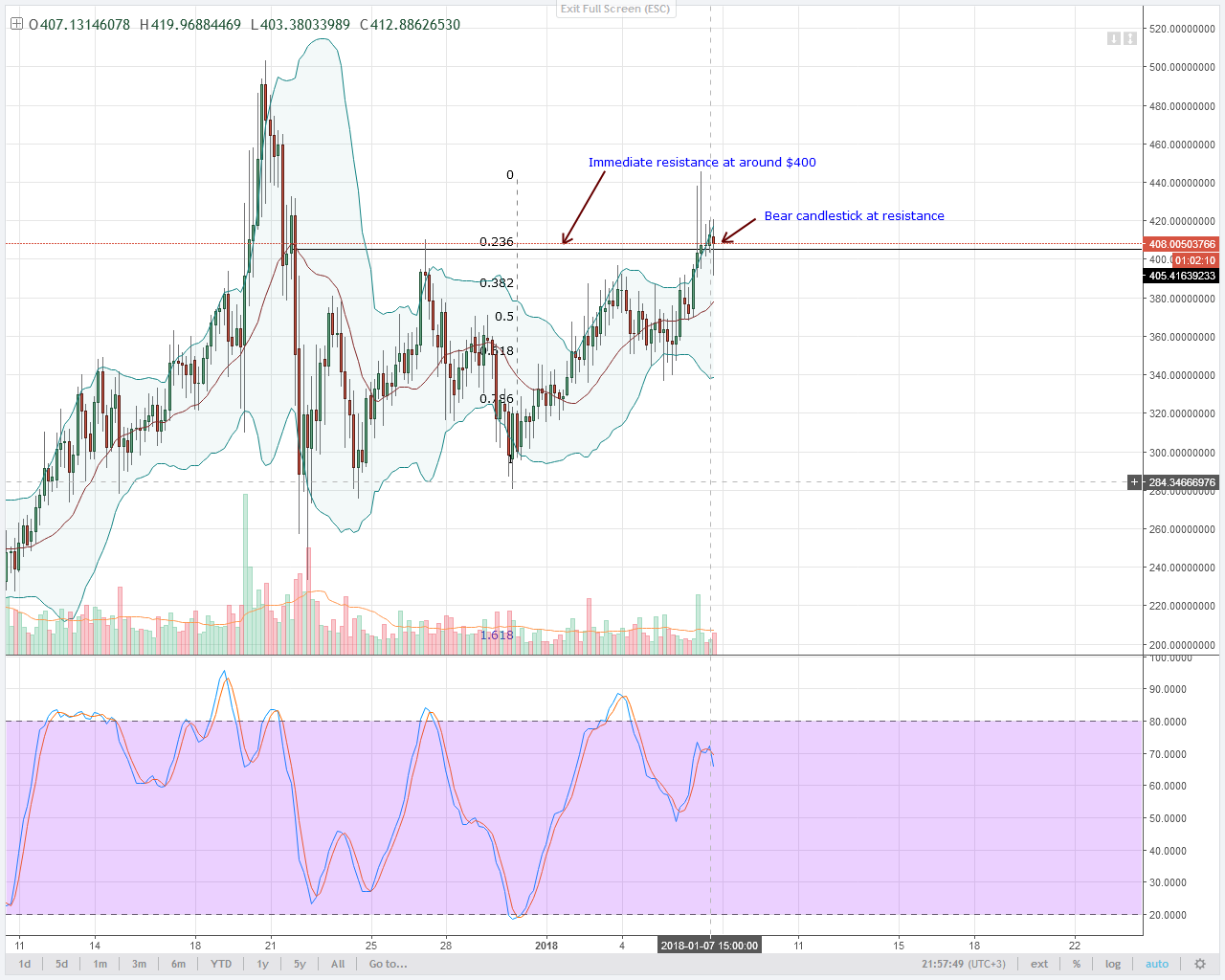 By week ending January 7, Monero buys had put in a lot of minutes and pumped prices $114 towards the main resistance at $400.
Now, here's the deal. See that bear candlestick reversing right from the $400 following long lower wicks from late January 6? Those are pointers and signal a potential correction towards January 5 lows of around $350.
Regardless of the sell signal in the weekly chart, I shall be recommending buys at $350 as it coincides with the 50% Fibonacci retracement level anchored on last week's high low.
Conversely, any blast above $430 cancels this minor correction and ushers in a new wave of strong bull pressure. Either way, our ultimate target is December 20 highs of $500.
LTC BREAK OUT TRADE: LOAD UP AT $255 RETEST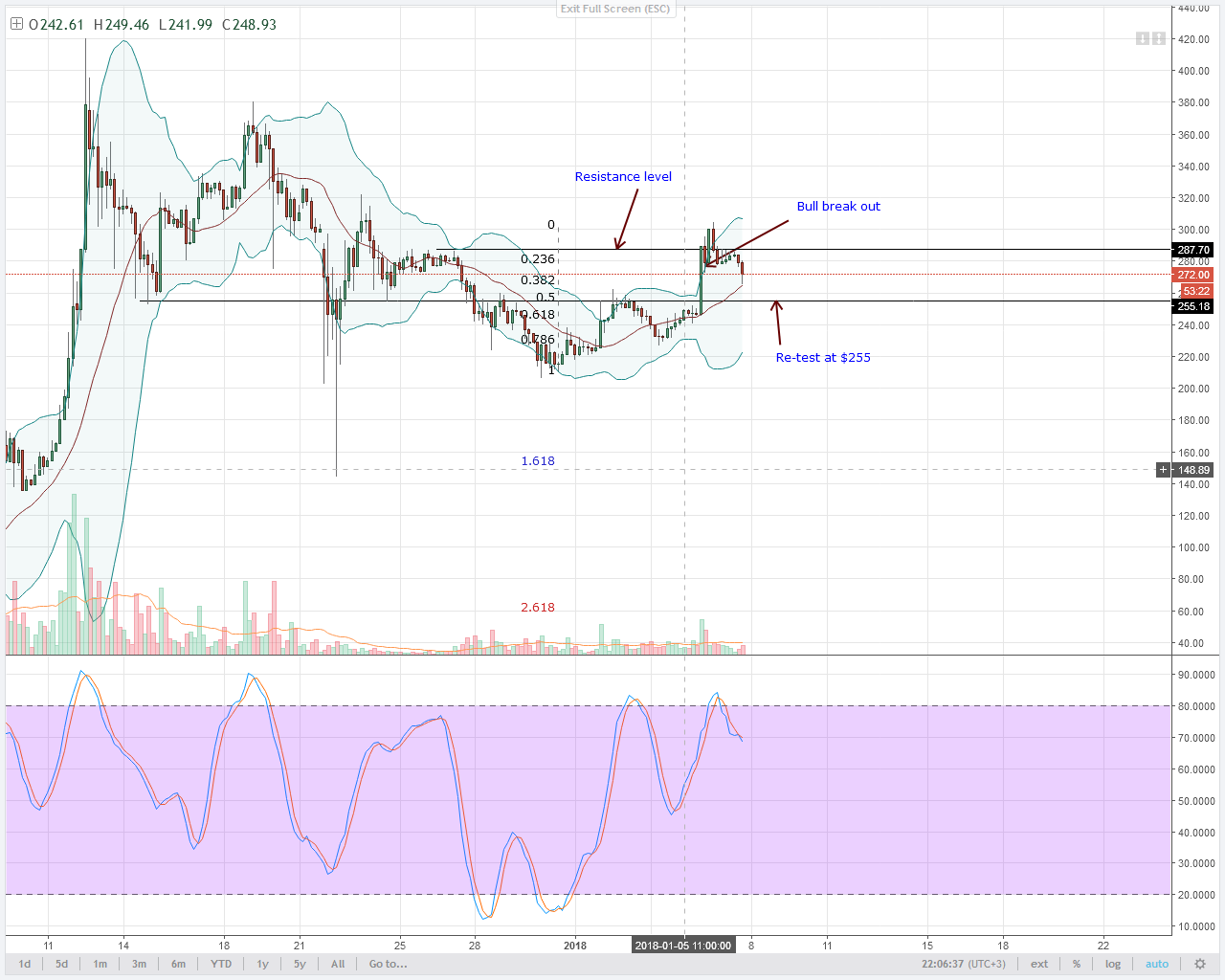 You know what? All LTC traders should be thankful of the current retracement despite the strong LTC bull candlestick on January 6.
It's typical of break out trades bearing in mind that the actual break out happened after that blast above $255 and as it is, these lower lowers is merely a retest which is cool.
I went ahead and placed a Fibonacci tool between last week's high low and guess what? The $255 falls right at the 50% level and that is where I'm recommending we go long even if you did buy above $290.
All charts courtesy of Trading View and these are my own views. I'm not a signal provider so do your own due diligence first.
Let me know what you think!!!