The last few days have been quite dramatic in the cryptocurrency industry, for Bitcoin to Cardano.
On Monday, Bitcoin sliced through the $10,000 resistance level for the first time since the beginning of the year.
Following the upswing, some of the most prominent analysts in the industry affirmed that the increasing rift between the U.S. and China could propel BTC towards its all-time high.
A few hours later, however, the flagship cryptocurrency plummeted by $1,000 in less than five minutes. The plunge liquidated more than $100 million worth of long BTC positions on the Seychelles-based exchange BitMEX.
This wild price action was felt throughout the entire industry, but the so-called "Ethereum killer," Cardano, was able to recover from the bearish impulse quickly. The buying pressure behind it seems to be fueled by speculation regarding a major protocol upgrade that is scheduled by the end of the month.
Regardless of the hype around the smart contracts token, different on-chain metrics suggest that it is poised to retrace.
On-Chain Metrics Spell Trouble for Cardano
Ever since the peak of May 31, when Cardano rose to a new yearly high of $0.087, its on-chain volume appears to have leveled off. Since then, this metric has experienced a steady decline even though ADA's price is consolidating between $0.075 and $0.085, based on data from Santiment.
The divergence between price and volume can be seen as a negative sign. This may indicate that momentum for a bearish impulse is building up slowly.

Along the same lines, the chatter about Cardano across all social network platforms is plummeting, according to crypto insights provider LunarCRUSH. The firm recorded a series of spikes on this fundamental metric that have transitioned into lower highs.
The most significant spike in ADA's social activity took place on May 28, with over 1.6 million engagements on that day alone. But since then, the social volume has dropped drastically to 500,000 engagements today.
Although roughly 76% of all the social interactions have been bullish about Cardano, the 69% drop in daily engagement is a reason to worry.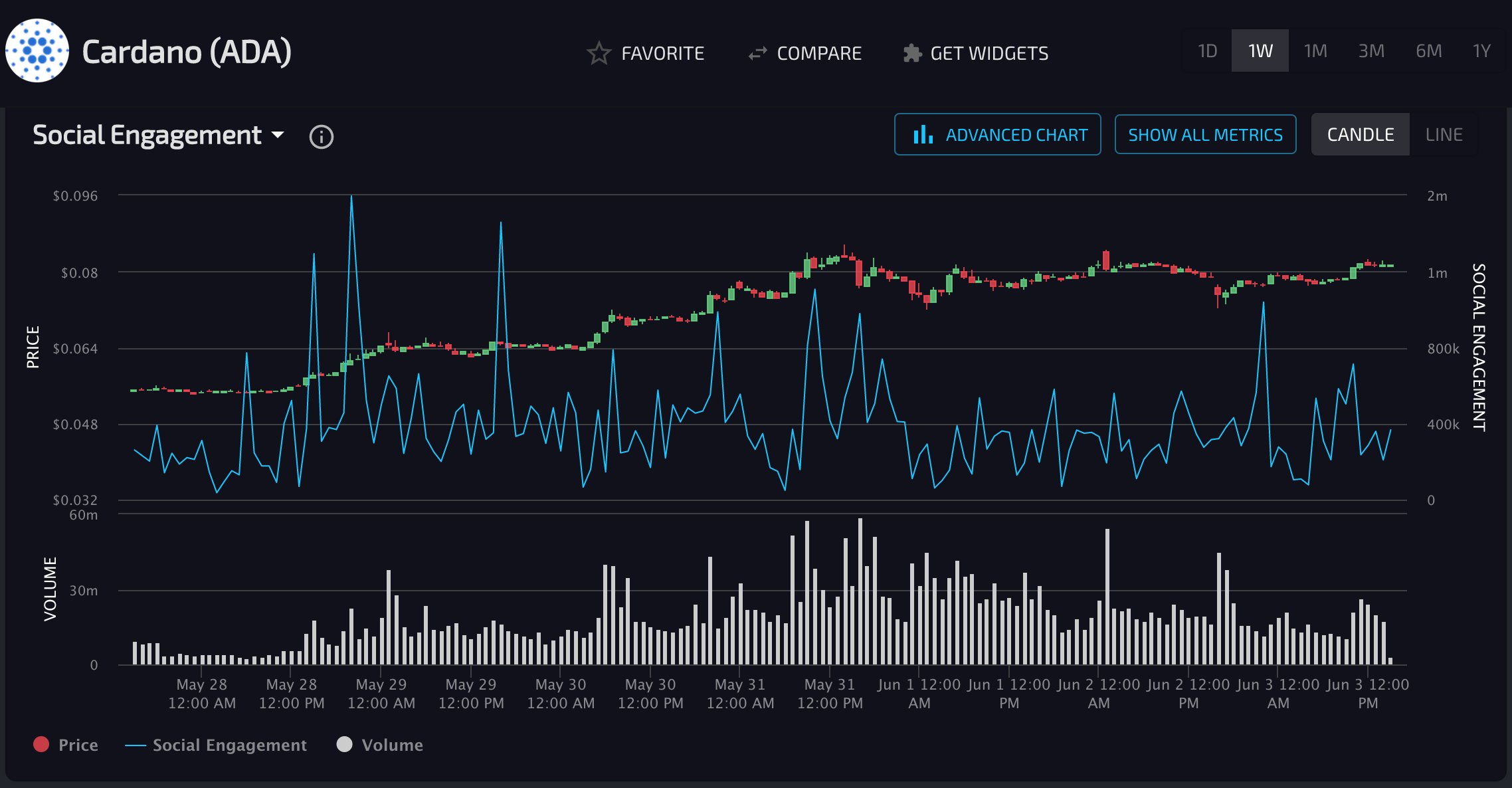 Weak Support, Strong Resistance
IntoTheBlock's "Global In/Out of the Money" (GIOM) model adds credence to the bearish outlook. This on-chain metric reveals that Cardano faces a major resistance barrier ahead of it that lies between $0.082 and $0.011.
Around this price level, more than 27,000 addresses bought over 1.1 billion ADA. Such a massive supply barrier could prevent this altcoin from advancing further up.
If this resistance wall continues to hold, the bears may step in. An increase in the selling pressure behind Cardano could see it take a massive nosedive. The GIOM reveals that there isn't any significant barrier that will prevent ADA from plunging towards $0.062.
With the recent levels of volatility, it is crucial to implement a robust risk management strategy. As the cryptocurrency market transitions into a new bull cycle, having cash ready to deploy is a must.
Featured Image from Shutterstock
Tags: adausd, adabtc