Chainlink, like most other altcoins, is facing some heightened selling pressure today due to the market-wide downturn.
This has compounded the weakness that LINK was already facing prior to the declines seen by Bitcoin, Ethereum, and most other major altcoins today.
Despite seeing some weakness today that has erased the gains it posted over the past couple of days, it is important to note that Chainlink is still trading well-above its recent lows of $12.00 that were set just last week.
Analysts are noting, however, that a visit towards these lows may be imminent, as it doesn't have any significant support until $12.50 – according to one indicator.
One trader is even noting that he is watching for a retrace down towards its key near-term support at $9.00.
Chainlink Shows Signs of Weakness Following Overnight Downturn
At the time of writing, Chainlink is trading down just under 6% at its current price of $14.20. This marks a notable decline from daily highs of roughly $15.50 that were set yesterday.
The cryptocurrency has been facing turbulence ever since its price rebounded from lows of under $13.00 just last week.
The rebound from these lows led LINK to highs of $16.50 before it lost its momentum and began sliding lower.
LINK's rejection at these highs ultimately caused it to see a bout choppy trading between $14.75 and $15.80.
Today's decline, however, seems to mark a bearish resolution to this bout of sideways trading.
Analysts are now noting that downside may be imminent in the days ahead, as Chainlink still has room to fall before it retests its lower lows.
One trader is specifically setting his sights on a movement to $9.00 in the near-term.
"LINK bulls eyes on $9 sorry," he said while pointing to the levels marked on the below chart.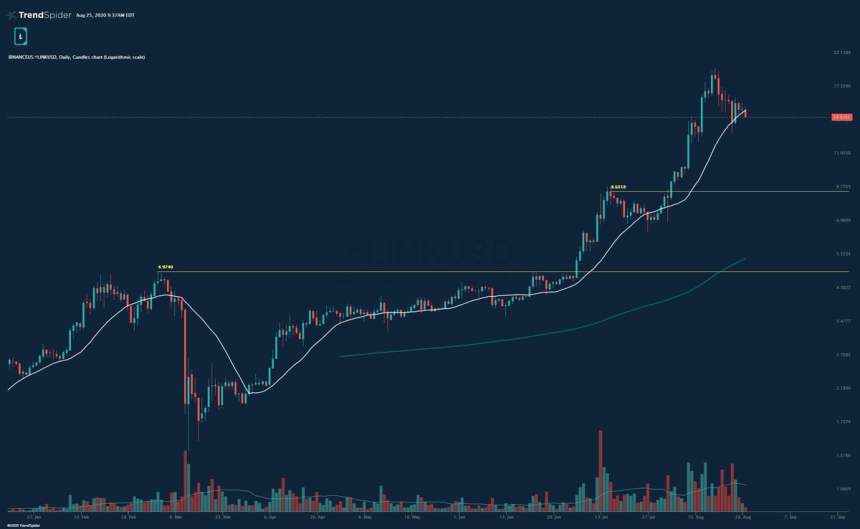 Image Courtesy of Ledger Status.
LINK's Cloud Formation Suggests $12.00 Remains a Strong Support Level
Despite the aforementioned analyst's $9.00 price target, the one key level that may stop Chainlink from diving to these lows sits at $12.50.
While speaking about this level, one analyst noted that this is around where the cryptocurrency's "kijun cloud" suggests there is support.
"1D LINK: Cloud likes 12.5 as supp (kijun)," he explained.
Image Courtesy of Josh Olszewicz. Chart via TradingView.
If the support at this level falters, it may send Chainlink into a tailspin that leads it into the sub-$10.00 region – marking a 50%+ decline from its multi-week highs.
Featured image from Shutterstock.
Charts from TradingView.